Story Progress
Back to home
Roast Pumpkin Soup Recipe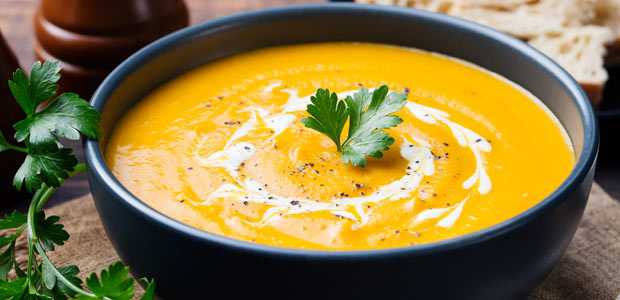 How to make Roast Pumpkin Soup
A comforting bowl of pumpkin soup with the flavour-goodness of honey and cream.

Ingredients of Roast Pumpkin Soup
1/2 Pumpkin (split in two)
1 tsp Honey
1 cup Cream
1 clove Garlic (skin removed
1 Onion
2 litre Chicken stock
Olive oil
Salt and pepper
2 Red chillies (1 deseeded), finely chopped
2 Lemons (juiced)
1 Lemon zest
Extra virgin olive oil
Handful Thyme
1.
Preheat the oven to 180-200 degrees C.
2.
Cut the pumpkin in half, remove the seeds and slash it in.
3.
Drizzle some olive oil, salt and pepper and rub well on the cut side of the pumpkin.
4.
Poke the red chilly and place it inside the pumpkin with thyme.
5.
Drizzle olive oil on the onion and garlic and put them with pumpkin in the oven to roast.
6.
Remove from the tray and allow the tray to cool.
7.
Scoop the flesh of pumpkin into a saucepan. Add onion, garlic and 1 cup of chicken stock and blend the mixture.
8.
Heat pan, add rest of the chicken stock, honey and cream. Bring to gentle simmer and season to taste.
9.
Make the masala with finely chopped red chilly, lemon zest, some lemon juice, some extra virgin olive oil, salt and pepper.
10.
To Serve: Pour into individual cups and garnish with masala.