Story Progress
Back to home
Rocket Salad Recipe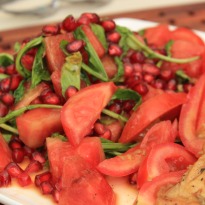 A refreshing salad of rocket leaves, watermelons and pomegranate drizzled with a honey-mustard dressing.

Ingredients of Rocket Salad
A bunch of rocket leaves
1 bowl watermelon cubes
2 tomatoes diced
1/2 a cup red pomegranate kernels
For the dressing:
1 Tbsp mustard
1/2 a cup of orange juice
2 Tbsp Worcestershire sauce
1 Tbsp honey
5 Tbsp lemon juice
Salt & pepper to flavor
1.
Mingle the Worcestershire sauce, lemon juice, orange juice, mustard, salt, honey, pepper and stir together. Let the dressing for a minute or two.
2.
Add pomegranates, watermelon, and rocket leaves in the dressing and top it with diced tomatoes.