Story Progress
Back to home
Scones Recipe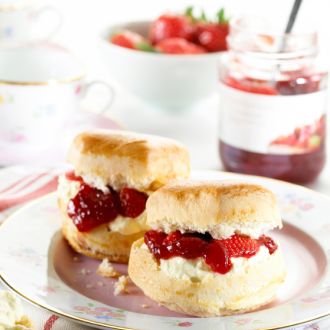 These scones can be the peak of a perfect afternoon, spruced up with clotted cream and a delectable strawberry jam.

Ingredients of Scones
1 3/4 cups all-purpose flour
4 tsp of baking powder
1/4 cup of white sugar
1/4 cup of sour cream
5 tsp of butter
1/2 cup + 1 tbsp milk
1 egg
strawberry jam (optional)
clotted cream (optional)
1.
1. Preheat the oven to 400 degrees F (200 degrees C).
2.
2. Sift the flour, baking powder and salt into a large bowl. Cut in butter using a pastry blender or by rubbing between your fingers until it looks like fine crumbs. Stir in the sugar.
3.
3. Mix together 1/2 cup milk and sour cream in a measuring cup. Pour into the dry ingredients, and stir gently until well blended.
4.
4. With floured hands, cut the dough round into 8 pieces. Place onto a greased baking sheet, and flatten lightly.
5.
5. Whisk together the egg and 1 tablespoon of milk. Brush the tops of the scones with the egg wash and let the scones rest for about 10 minutes.
6.
6. Now bake for 10 to 15 minutes in the preheated oven, until golden brown. Slice each scone in half and serve immediately.