Story Progress
Back to home
Sesame Meat Curry Recipe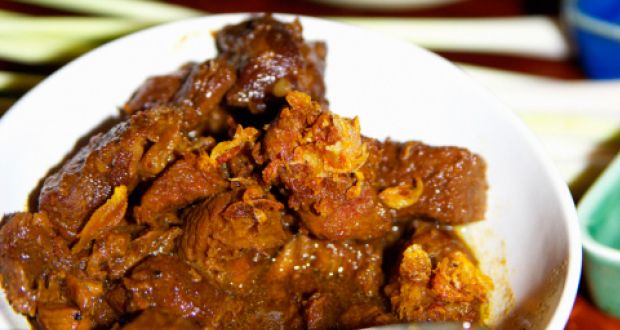 A sweet-sour meat recipe flavored with spices and jaggery. Added for an extra crunch are sesame and poppy seeds.
Total Cook Time

1 hr 10 mins

Ingredients of Sesame Meat Curry
1 kg meat, cut into 2" inch cubes
1 level Tbsp ginger paste
2 level Tbsp garlic paste
1 tsp salt
1 Tbsp jaggery, grated
1 Tbsp poppy seeds
8 large cloves garlic
6 green cardamom seeds
2 tsp fennel seeds
1
4 Tbsp oil
1 tsp mustard seeds
5 dry red chillies
1 tsp chilli powder
1/2 tsp turmeric powder
3 Tbsp shredded ginger
1 tsp sesame seeds, roasted
2 tsp lemon juice
2 tsp coriander, chopped
1.
1. Combine ginger, garlic, salt and jaggery together. Rub over meat and set aside for 1 hour.
2.
2. Roast poppy seeds, garlic, cardamom, fennel and cinnamon on a tawa. Grind.
3.
3. Heat oil in a large pan. Add mustard seeds and whole chillies. Add meat and fry until brown. Add chilli powder, turmeric, ginger strips and ground spices. Stir well.
4.
4. Add 1 cup water. Bring to a boil. Cover and seal. Simmer for 1 hour.
5.
5. Sprinkle over roasted sesame seeds and stir in lemon juice.
6.
6. Garnish with coriander.