Story Progress
Back to home
South Indian Lemon Pickle Recipe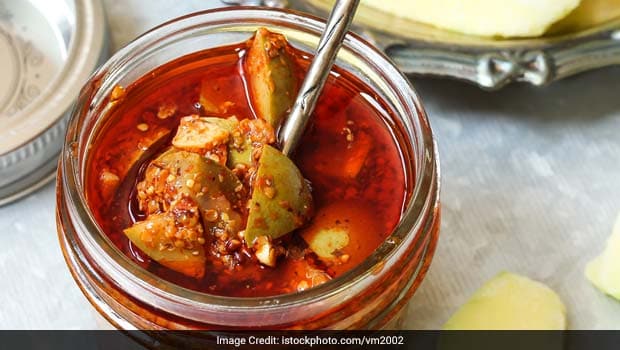 How to make South Indian Lemon Pickle
About South Indian Lemon Pickle Recipe: A South Indian styled recipe, full of spice pickle with a tang of lime. This spiced lemon pickle can work wonders for your boring meals!

Ingredients of South Indian Lemon Pickle
2 Kg Lemons (washed and wiped), chopped
250 gram Salt
100 gram Chilli powder
50 gram Fenugreek seeds (finely ground)
15 gram Asafoetida
2 tbsp Turmeric powder
1 cup Sesame oil
1.
Heat 60 gm (1 cup) oil and add the lemons and saute for about 10 minutes over low heat.
2.
Add salt and chilli powder, saute for another 10 minutes
3.
Add fenugreek seeds, asafoetida and turmeric and the remaining oil, bring to a boil, lower the heat and cook for 10 minutes.
4.
Take it off the heat and store in a clean airtight jar when cool.
5.
Gets softer when matured for 10-15 days.
6.
Serve with anything from parathas, chapatis to rice.