Story Progress
Back to home
Squids with Prawn Stuffing Recipe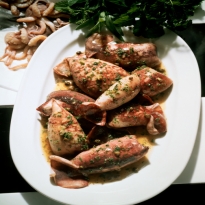 How to make Squids with Prawn Stuffing
Stuff squid tubes with a prawn mixture for a seafood delight

Ingredients of Squids with Prawn Stuffing
7-8 squids - cleaned and washed
For the stuffing
1/4 cup onions - chopped
1/4 cup tomatoes - chopped
2 tbsp green masala
8-9 fresh prawns
salt
oil
For the green masala
2 tbsp coriander leaves
1 tsp coriander powder
1/2 tsp cumin seeds
1/2 tsp turmeric powder
3-4 green chillies
1 inch ginger
1 inch cinnamon
2-3 whole cardamom
1.
To prepare the stuffing, heat oil in pan and saute onions.
2.
Once they turn brown in colour, add tomatoes and cook for 2-3 mins.
3.
Now add the green masala and prawns and cook for five minutes.
4.
Take the squids and fill them with prawn stuffing.
5.
Close them from top with the help of a tooth pick.
6.
Heat oil in a pan and cook the squids for 10 minutes or till done.