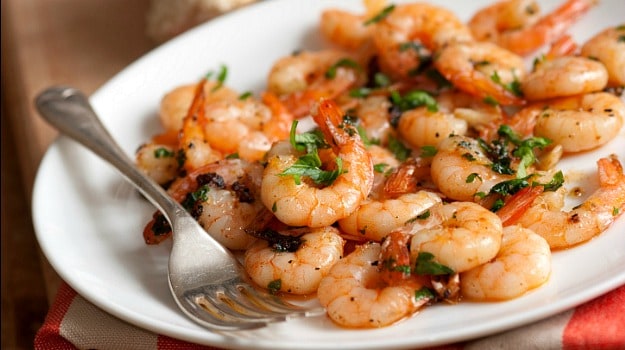 About Spicy Sriracha Prawns with Basil Recipe: Concoct this yummy dish of prawns within minutes. Prawns tossed with spicy sauces, chillies and basil.
Ingredients of Spicy Sriracha Prawns with Basil
10-12 Medium prawns (deveined and deshelled)
2 garlic cloves, chopped
1 red and green chillies, chopped
3 tsp oyster sauce
2 tsp sriracha chilli sauce
1 tsp fish sauce
Lemon juice
15 basil leaves
3 spring onion greens
How to Make Spicy Sriracha Prawns with Basil
1.

Heat oil in a wok and fry garlic and chillies.

2.

Add prawns and stir fry.

3.

Add oyster sauce, fish sauce and sriracha.

4.

Cook till sauce coats prawns. If too dry add little water. Add basil leaves.

5.

Squeeze lemon juice and serve with spring onion greens.
Key Ingredients: prawns (deveined and deshelled), garlic cloves, red and green chillies, oyster sauce, sriracha chilli sauce, fish sauce, Lemon juice, basil leaves, spring onion greens