Story Progress
Back to home
Strawberry Shortcake Recipe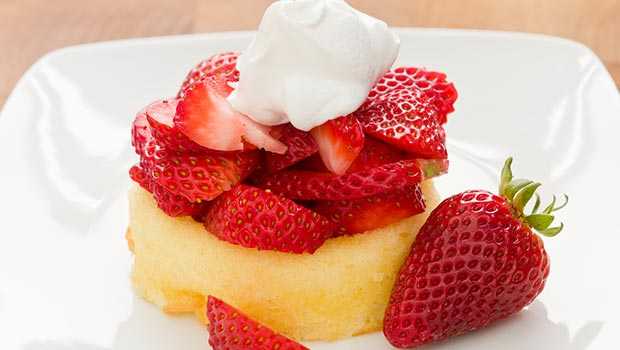 How to make Strawberry Shortcake
Shortcake is typically a crisp, rich in butter, crumbly biscuit. Strawberry shortcake is one of the most famous desserts in which the shortcake is piled with strawberries, whipped cream and dusted with icing sugar.
Total Cook Time

1 hr 15 mins

Ingredients of Strawberry Shortcake
250 Gram Flour
125 gram Butter
75 gram Icing sugar
2 Egg yolks
2-3 drops Vanilla essence
1/2 kg Seasonal fruit
250 ml Whipped cream (flavored with 1 Tbsp castor sugar)
1/4 tbsp Vanilla essence
1.
Sift flour and make a well in the center.
2.
Add butter, icing sugar, yolks and vanilla essence to the well.Work together to form a smooth paste.
3.
Set in a cool place for 1/2 an hour.
4.
Roll out into two 8" rounds about 1/4 " thick.
5.
Slide onto a baking sheet and chill for fifteen minutes.
6.
Bake at 180 degree centigrade for 15-20 minutes.
7.
Cut one round into 6-8 segments. Cool.
8.
Fill with whipped cream and fruit. Arrange the cut segments of pastry on top.
9.
Dredge with icing sugar. Finish with icing sugar and cream.