Story Progress
Back to home
Strawberry Crumble Recipe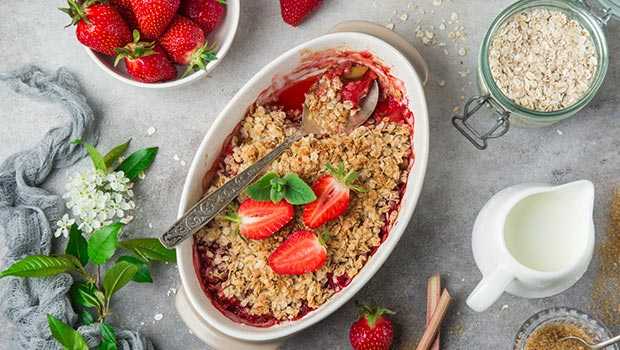 How to make Strawberry Crumble
Juicy strawberries topped with a almond, flour, brown sugar crumble and baked perfect in this delightful dessert.

Ingredients of Strawberry Crumble
500 Gram Strawberries
125 gram Castor sugar
25 gram Almond meal
100 gram Brown sugar
50 gram Almond flakes
75 gram Butter
125 gram Flour
1 tsp Baking powder
1.
Preheat the oven to 200 C. Place the strawberries on a baking tray.
2.
Sprinkle caster sugar and almond meal on the strawberries. Keep aside.
3.
For the crumble, mix flour and butter in a large bowl.
4.
Add brown sugar, baking powder and almond flakes to the crumble mix.
5.
Cover the strawberries with the crumble mix.
6.
Bake for 25-30 minutes at 180 C.
7.
To Serve: Garnish the strawberry crumble with almond flakes and brown sugar.