Story Progress
Back to home
Tandoori Chicken Nugget Recipe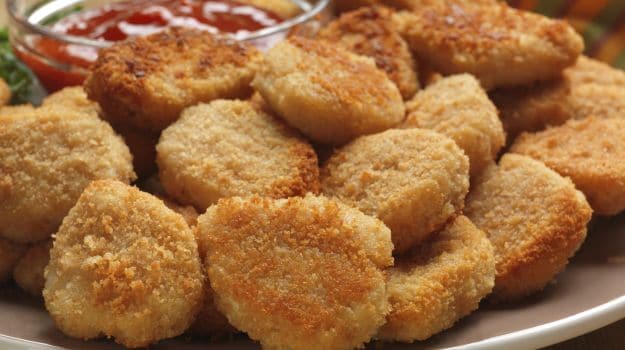 How to make Tandoori Chicken Nugget
This recipe brings together the goodness of tandoori chicken and chicken nuggets - all in one! Juicy chicken pieces are marinated in tandoori masalas and then coated in breadcrumbs. This crunchy snack is sure to leave you drooling!

Ingredients of Tandoori Chicken Nugget
500 gm Boneless chicken or chicken mince
For marination:
1 tbsp Kashmiri red chili powder
2 tsp Salt
1 tsp Coriander powder
1/2 tsp Turmeric powder
1 tsp Roasted and grounded cumin seeds
1 tsp Black pepper powder
1/2 tsp Garam masala powder
2 tsp Garlic ginger paste
3 Bread slices
2 tbsp Yogurt
1 tbsp Lemon juice/vinegar
For coating:
1 Large egg
Panko bread crumbs
Oil (for frying)
1.
Mix together minced chicken and bread crumbs.
2.
Marinate the minced chicken in yoghurt and all the spices mentioned in the ingredients list. Mix it well, till it becomes like a wet dough.
3.
Take a plate and spread the minced chicken dough. Take a knife and cut it into squares. Freeze this for an hour or more.
4.
Prepare a mixture of whisked egg and salt. In another plate, spread more bread crumbs.
5.
Take each frozen chicken square and dunk in the egg, coat it with bread crumbs and then deep fry them till they are golden brown.
6.
The tandoori chicken nuggets are ready!