Story Progress
Back to home
Thai Lassi Recipe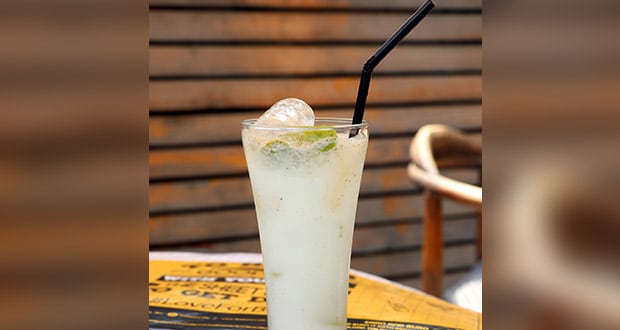 How to make Thai Lassi
The Beer Cafe presents a perfect cocktail to go with this summer! Vodka being one of the most mixable liquor in the bar, can go with just about any flavor and ingredients and thus has thousands of cocktails to its credit. This one here is an exclusive one made with cream and coconut syrup shaken well with vodka and lime!

Ingredients of Thai Lassi
50 Ml Vodka
20 ml Cream
A pinch of Kafir lime leaves powder
15 ml Coconut syrup
1.
Take 20 ml fresh cream in cocktail shaker.
3.
Add a pinch of kafir lime powder followed by 50 ml vodka.
4.
Now add ice cubes to the cocktail shaker till the top and shake well.
5.
Fill one pilsner glass with more ice cubes.
6.
Strain and pour the mixture over the ice in glass.
7.
For garnish, make a lemon peel (in twisted shape), rim the glass and put the peel on top of the drink and serve.
Key Ingredients: Vodka, Cream, Kafir lime leaves powder, Coconut syrup