Story Progress
Back to home
Turai Rice Soup Curry Recipe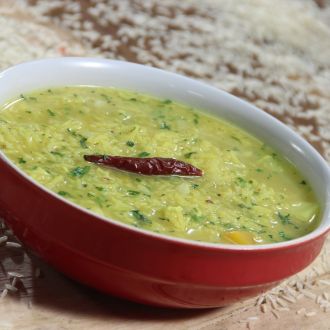 Who knew ridge gourd could not just taste so good but would be so easy to make as well. A soup rich in flavour and high on health is perfect for the calorie conscious.

Ingredients of Turai Rice Soup Curry
2 medium ridge gourd, peeled and cut into medium cubes
2 cups basmati rice, soaked
2 Tbsps oil
1 tsp paanch phoran
3 dried red chillies
2 tsps chopped garlic
1 medium onion, chopped
1 large potato, peeled and cut into medium cubes
1 cup cubed red pumpkin
¾ tsp turmeric powder
½ tsp crushed black peppercorns
Salt to taste
2 Tbsps chopped fresh coriander leaves
1 lemon
1.
1. Heat oil in non-stick pan, add paanch phoran and sauté for 10 seconds.
2.
2. Add red chillies and sauté for 30 seconds.
3.
3. Add garlic and sauté for a minute.
4.
4. Add onion and sauté till it turns translucent.
5.
5. Add potato, red pumpkin, ridge gourd, turmeric powder, crushed black peppercorns and salt and mix well.
6.
6. Drain rice and add to the pan with two litres water and mix well and cook till rice and vegetables carefully cooked.
7.
7. Add coriander leaves and lemon juice and mix well.
8.
8. Transfer into a serving bowl and serve hot.