Delhi has become more than just ruins and street food. A vibrant new party scene is emerging, with creative cafes, restaurants and bars run by 'outsiders' who are making this tough city their own
There's no escaping it, Delhi is a city facing major challenges, yet for all its problems, it's an exciting place to be right now: a city in flux. When I was at college in Delhi, at the turn of the century, it was different. There were ruins and monuments for the tourists, but the things many of us craved - good foreign food, a place to drink, nightlife that wasn't a in five-star hotel - were sorely lacking. Then an electronic music scene blossomed; the club Elevate - modelled on Fabric - opened in 2003. New restaurants, bars and coffee shops emerged with the new money. Even so, the scene was still very much an inside thing, mostly led by the rich. But in the last couple of years, a smaller, more intimate and affordable kind of venue has appeared, driven by outsiders.
Rumbar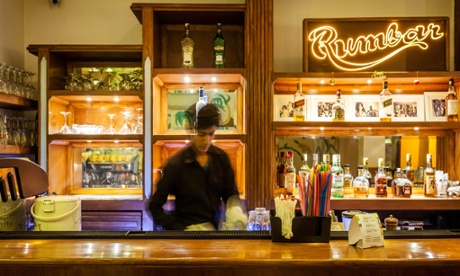 Francois Servant, owner of Rumbar, is one of them ("an outsider"). A Frenchman who grew up in the West Indies, he came to Delhi eight years ago while working in haute couture. With his business partner Pio Coffrant, he opened a bed and breakfast called Colaba House (aided by the relaxing of laws for B&Bs in the accommodation shortage running up to the Commonwealth Games). When the business was sold, they opened a boutique hotel in Hauz Khas Village - the nightlife district, grafted onto a tightly packed, medieval era neighbourhood - called The Rose. Their live music nights attracted an inclusive crowd; it was from these nights that Rumbar was born.
I sit with Francois in the bar section - all creamy Caribbean colours and poppy Cuban murals - while the staff prepare the stage for the night's event. The restaurant and bar are divided by the stairs running up the middle of the building, meaning customers can choose to sit down and dine from the French Creole and West Indian menu (try the green papaya gratin) in a more formal setting, or snack on small plates, drink (rum punch, spicy twist) and dance in the livelier space. Francois usually hosts three or four bands a week. Tonight he is performing himself. At the table, he's stylish, a touch reserved, with a smile that's weighted in the eyes. At soundcheck, when he sings, his bald head and thick-rimmed glasses project another charisma. Imagine: Michel Foucault as bluesman.
Spicy twist and rum punch R450 (£4.70), green papaya gratin £2.65, Rumbar Facebook page
Mizo Diner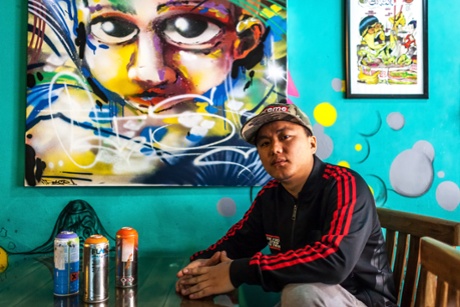 Another alternative culture comes from India's north-east: the seven states connected to the mainland by a strip of land between Nepal and Bangladesh. This region is India, but not quite India, with Christianity and an abiding love for 70s and 80s rock (which the north-eastern writer Ankush Saikia puts down to the church influence; almost every household owns a guitar and piano) being two distinct markers. There's also an obvious difference in appearance, and these factors combined have led to racism and discrimination in the rest of the country. The absurd fact of this makes a place like Mizo Diner (named after the state of Mizoram) hugely welcome in Delhi.
Owner, graffiti artist and hip-hop fan David Lalrammawia, aka Zine, left Mizoram for the capital in his youth and ended up studying graphic design. After university he began doing commercial work painting bars, lounges and private residences in Goa, Bihar and Delhi, but still had dreams of home.
"I wanted to go back to Mizoram, open a cafe where you served great coffee and had art on the walls," he says. "But there's no culture of sitting down and drinking coffee there."
When that idea stalled, he and four friends ("they had the money!") decided to open a small restaurant in Delhi; they found a dingy room in February of 2014 that used to be a basic Bhutanese joint in Humayunpur, an edgy area within the posher Safdarjung colony. He went to work covering the walls with graffiti. Eventually, David and his Mizo-Iranian girlfriend, Zoi, took on the running alone.
Walking in feels like stumbling on a unique scene. The Notorious BIG plays on the stereo, north-east kids are engrossed in their laptops, heavenly smells of meat and spice drift from the kitchen. The cuisine is distinct and meat-heavy, close to Chinese and Burmese cooking. Traditional dishes (bitter gourd boiled in shrimp paste, roasted pig's head) share the menu with burgers and ribs.
But there's zero attitude in the air, none of the "do you know who I am" posing that goes on elsewhere in the city. The crowd, as with Rumbar, is mixed, though younger and less moneyed: north-easterners rub shoulders with adventurous tourists, European graffiti artists (German artist Bond is a mentor) and students, tables often seem to join, conversations carry across the room.
Bitter gourd in shrimp paste 50p; roasted pig's head 94p; ribs £2.80; burger £.140, Mizo Diner Facebook page
Le Bistro du Parc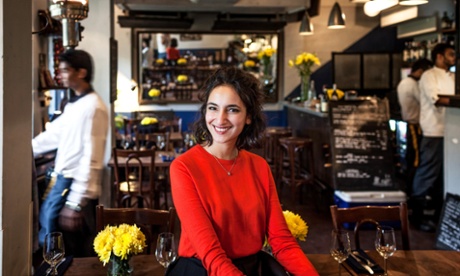 The search for a more sophisticated kind of coziness brings us to Le Bistro du Parc, in Defence Colony's Moolchand Market area. Out on the eponymous green, men laze around playing cards and smoking beedis but inside it's another world. Vases of yellow chrysanthemums sit on dark wooden tables, blackboard menus are carried by waiters, and the sound of jazz spills out beyond the gurgling coffee machine. In a hectic and often abrasive city like Delhi, this is sanctuary of the first order.
Le Bistro is the creation of Naina de Bois-Juzan; the daughter of a Punjabi mother and French father, she arrived in India from Paris when she was 17 to spend six months at the Bihar School of Yoga. It changed her life and she never left, studying political science and then working as the representative of a French company in Delhi. She loved the city; the only thing she missed about France was the food, finding herself going to the same old boring places to eat and drink. So she decided to do something about it by opening this bistro in July 2013.
A charming hideaway in the day, at night it transforms into a bustling neighbourhood restaurant, with music nights on the upstairs terrace that's cleared for dancing. The small menu changes often, using seasonal produce - partnering with The Green Bean organic farm - to create French dishes (duck confit, lamb navarin, steak-frites) with local ingredients. Despite Delhi's reputation, Naina doesn't want to be anywhere else. "In Delhi, everything is possible," she says. "It's a city in constant flux, but it's a very exciting place to be."
Starters £2.60-£4.25, mains £5.30-£10,lebistroduparc.com
Barsoom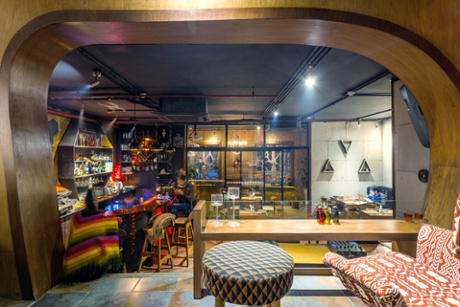 Back in Hauz Khas Village, Robbie Bergo and Raavi Chou are half-brothers, their Italian mother, a chef, came to the country overland in the 70s, married an Indian man (Raavi's father), and later met Robbie's father, an English engineer also born in India. Raised in the town of Manali, a hill station in the state of Himachal Pradesh, Robbie started travelling and working in Europe (as chef and DJ) when he was 16.
Dali-moustached Raavialso left for Europe at 16. He worked in a pizzeria in Venice, returned to India to complete a hospitality course, and ended up in an Italian restaurant in Exeter, via stints in London, where he went from waiter to manager in a few months.
The fruit of all this labour and experience was Flipside Cafe, the creperie they opened a few years back, when Hauz Khas Village was still relatively unknown. Shut down because of licensing problems (common here), Raavi decided to try again early in 2014 in a different location nearby, fulfilling his dream of opening a proper bar and music place that served great food. Enter: Barsoom.
The first time I walked in, the place was going crazy; it reminded me of old partying days in Delhi: trance, deep house and techno, a good mix of men and women, no aggression. It's the Indo-European combination that makes Barsoom so intriguing, the best of both worlds, with proper cocktails, wonderful food (lamb burger, crepes, roast chicken, the best fries around), and smart decor, courtesy of Raavi's wife, fashion designer Shreya Sharma. All this - and the best electronic music in the city - creates an incredible atmosphere to relax or party in. "We get a good mix of people," says Robbie. "Some come here for the music, some to drink and eat, and a lot of women come here as they feel safe. We try not to let the assholes in."
Safety is a big factor, especially since Hauz Khas Village changed direction recently, with big-money players moving into the previously bohemian area, opening bars that offer dirt-cheap drinks and free drinks for women, leading to the kind of crowds that spell trouble as the night wears on. The change in scene is something Raavi, Francois, and also Naina, are aware of, but it's also the reason why places such as theirs, along with David's, are so vital, presenting by turns a sophisticated, hard-partying, independent and alternative face of Delhi to the world.
Roast chicken £5, lamb burger £4.60, crepes £2.10-£3.10, barsoombistro.com
Street scene of Hauz Khas Village, the south Delhi restaurant and bar district, home to Barsoom and Rumbar. All photographs: Matthew Parker