Body polishing is not only good for the effects it has to
soften and moisturize the skin
but it also helps exfoliate and smoothen the skin. However, this concept is not really new. When you study about the beauty rituals of the Mughal queens or research about the skin practices followed by the Egyptians, you will find that cleansing grains and exfoliaters made with natural ingredients have been since days bygone.Wheat, rice flour, semi-precious stones, roots, flowers, herbs, grains, pulses and all have been researched and used on the skin to beautify the body and make it smooth. I would propagate the use of
exfoliaters
on the body not just to remove dead skin but also to detox, soften and smooth the body.The magic of using an exfoliater or body polisher lies in the right mix of ingredients. You can make a body polisher for detoxing the body, removing
blackheads and whiteheads
, moisturizing and improving the blood circulation. Here's how to make them at home and get
glowing skin naturally
.
Body Polish for Improving Blood Circulation
1 cup rice powder1 cup pounded fresh mint leaves1 tsp camphor powder1 cup oatmeal10 drops of peppermint oilMix all the ingredients well and stir in some cool
rose water
to make a smooth paste. Apply it all over body and when it is semi-dry scrub off by patting a bit of cold milk onto the skin. Rinse with cold water and you will feel a cool tingling sensation all over.
Body Polish for Detoxing
1 cup sea salt1 cup olive oil10 drops of geranium oil4 drops bergamot oilMix well together in a bowl and scrub this all over the body. Wash gently with water. Not only will your body feel silky soft but the
sea salt
will also help draw out toxins from the body.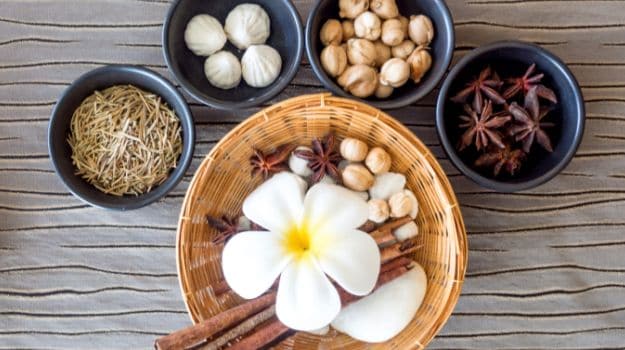 Body Polish for Nourishing
1 cup almond powder1 cup barley flour4 tsp rice powder2 tsp sandalwood powderMix together with milk and a drop or two of almond oil to make a smooth paste. Scrub all over the body and wash off with water. This will give a super soft feel and leave the skin nourished.
Body Polish for Dislodging Blackheads and Whiteheads
A lot of times the inner thighs, buttocks and upper arms are not scrubbed enough leading to a build up of sebum in the pores which results in whiteheads and blackheads. The following body polish will help dislodge them and smoothen the skin.1 cup daliya powder1 cup rice powderHalf a cup red masoor lentil, groundHalf a cup of wholewheat flourMix well together and stir in rose water to make a smooth paste and apply all over the body.
Scrub when semi-dry especially in the problematic areas.
My Favourite Body Polish
I just love citrus and especially in summer this favourite
body polish cum exfoliater
works its magic not only on my skin but the way I feel and smell too!1 cup oatmealHalf a cup orange peel powderHalf a cup lemon peel powder1 tsp grated lemon rind1 tsp orange rind A handful of marigold flowers10 drops lemon oilMix all ingredients well. Take the required quantity and mix with milk and scrub all over the body, rinse and feel like a queen. The most important thing to remember while polishing is not the amount of pressure you put to rub the scrub on your skin but to follow a circulatory motion when removing the exfoliant. Also, never use soap after removing the scrub, it will lose its purpose completely. Avoid using hot water to remove the scrub, either use lukewarm water or better still cold water. So weave your magic with my magical natural ingredients and glow naturally this summer.
About the author:
Suparna Trikha is a beauty expert based in New Delhi. She also teaches meditation through aromatherapy and organises corporate workshops for distressing. She has her own range of 40 beauty products and proposes to launch them very soon in the Indian market as well as abroad. With this crusade of moving back to nature, Suparna believes in making people healthier and more beautiful the natural way.
Disclaimer:
The opinions expressed within this article are the personal opinions of the author. NDTV is not responsible for the accuracy, completeness, suitability, or validity of any information on this article. All information is provided on an as-is basis. The information, facts or opinions appearing in the article do not reflect the views of NDTV and NDTV does not assume any responsibility or liability for the same.