Skin-care is no miracle, it requires diligent attention. You cannot put a face mask one day and expect long-lasting results. Most skin-types need a regular cleansing routine for that glowing look. While all of us desire beautiful skin and flawless sheen, we hardly want put in the extra effort that is required. Tight work schedules, pollutions, there are reasons aplenty to keep us away from tending to our skin. Most of us neglect to take out even 10 minutes from our daily routine to clean our skin. So no matter how much you are going to worry or crib, there's no other way out other than spending quality time to pamper your skin.Oily skin looks greasy and is prone to accumulating dirt. As a result, it leads to three very common problems – whiteheads, blackheads and open pores. In fact, a lot of professional salons which tend to over steam the face also lead to these problems. If you keep your skin clean by following a regular skin care program you can avoid them. One needs to be very careful when it comes to taking care of the skin.(Also Read: Home-Remedies for Acne and Acne Scars)
Whiteheads
Whiteheads are tiny little nodules of trapped oil just below the skin's surface. They give an uneven and bumpy look to the skin. Try to go to a well-known and good acoustician to get rid of them. Or you could make this natural mix at home and use it daily to clean your face –2 tsp
orange
peel
2 tsp rice powder
2 tsp dry pea powderMix all the ingredients along with rose water to make a thick paste. Apply it generously on the skin and allow it to dry. Wash your face with cold
water
and pat dry.Note: The best way to avoid whiteheads is to keep the skin scrupulously clean and free from any excess oil build-up.
(Also Read: Orange Juice is Healthier Than We Thought)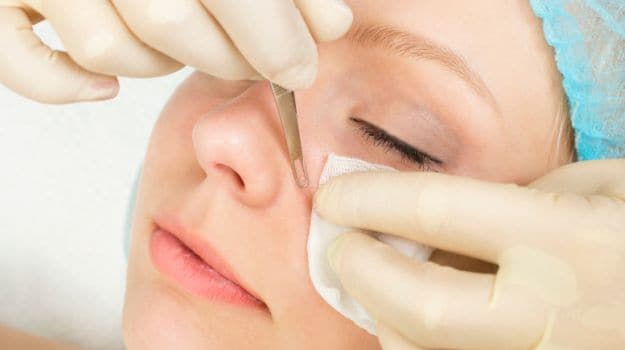 You need to tend to your skin diligently/Photo Credit: Istock

(Also Read:8 Expert Beauty Tips: Skin Care in Your 30's)BlackheadsBlackheads are hardened sebum, which blackens with exposure to air, and are embedded deep into the pores. These, if not taken care of could lead to pimples and acne. Deep pore cleansing is a must and one could do this after a slight massage using a gentle face scrub, such as 2 tsp of orange juice and 2 tsp of honey mixed with a pinch of camphor. The combination of orange juice, which is slightly acidic, and honey are good for oily skins.If you have very deep blackheads and have not bothered to clean them or do not want to fiddle with them yourself, seek professional help. In fact, if you have many blackheads, there's a possibility that the first few times the skin will not look completely clean but with regular treatment, the skin will begin to clear up. If you want to steam your face do so with herbs like lavender, lemon peel and mint leaves added to the water and let the skin soak up their natural goodness. Reduce the oiliness of the skin and blackheads will reduce too.(Also Read: Beauty Tips: How to Take Care of Sun Damaged Skin)It is also important that you drink at least 10-12 glasses of water a day and maintain a well- balanced diet. This can be easily done at home. All you need to do is use a little imagination to toss up salads and fruits in delicious dressings so that you don't get bored of them. Eat whole wheat chappatis and take lots of green vegetables like spinach, cabbage, beans, etc.To avoid blackheads and whiteheads you have to follow the golden rule of keeping your skin clean and this has to be done as a habit. You need to spend just 5-10 minutes a day cleaning and exfoliating the skin and you will notice the difference in a few days. (Also Read: An Expert Guide to Gorgeous Summer Skin)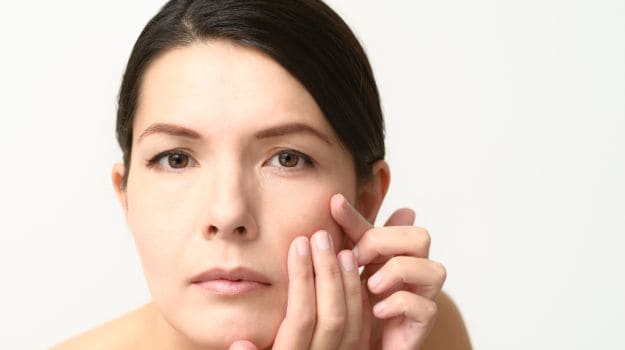 A flawless skin can be achieved by eating right| Photo credit: I stock
Open pores Open pores or as in a layman's language 'holes' in the skin are very common especially in those with oily skin. Open pores are actually enlarged pores due to excessive oil secretion and lack of using tightening masks that clean and absorb excess moisture.Using an antiseptic face wash or tonic, which has been refrigerated, will help reduce oiliness. You can mash one banana and apply the pulp on the face for 20 minutes and then wash off or you can rub tomato halves on the face and let the skin soak up its juice. Another effective face pack can be made by mashing 4-5 pieces of refrigerated papaya and applying them for 15 minutes and then washing the face. Bananas, tomato and papaya are also known to have a cleansing and tightening effect on the skin.(Also Read:Signs of Ageing Start Appearing in Mid-20s: Study)

Keep one ice tray filled with rose water and use these fabulous rose water ice cubes to keep your skin toned and tightened. Natural clay packs of 4 tsp fuller's earth and the juice of one lemon are also excellent for women who suffer from this particular problem.Most women tend to be silent about their skin problems until they turn severe and cannot be ignored anymore. It is like having a headache and hoping against hope that it will disappear on its own without any help. Most of the skin problems that we deal with are those which crop up from time to time. These are not permanent skin problems and if you really look after your skin you can cure most of them.
(Also Read: You are What You Eat: 5 Foods for Healthy Skin)
I have also seen women trying to look for beauty solutions in fancy salons or purchasing expensive beauty products without realising that beauty is not only about the products you use. All these three specific skin problems that we have talked about must be very carefully treated, keeping in mind that the magic formula lies in creating the right balance between external and internal treatments. In short, you should avoid spicy curries and colas to have great skin. It takes hard work and discipline to maintain flawless complexion.
Disclaimer:
The opinions expressed within this article are the personal opinions of the author. NDTV is not responsible for the accuracy, completeness, suitability, or validity of any information on this article. All information is provided on an as-is basis. The information, facts or opinions appearing in the article do not reflect the views of NDTV and NDTV does not assume any responsibility or liability for the same.