With summer comes a variety of fruits and vegetables that bring deliciousness to our meals! While in the fruit kingdom, summer is all about indulging in mangoes and watermelons, when it comes to vegetables, all we can think of is cucumber! The refreshing and juicy cucumber is one of the most enjoyed summer vegetables in our households! We can't help but indulge in cucumbers with our sabzi-roti, in our raitas or just as it is. This low-calorie vegetable is known to have high-water content, hydrating our body from the inside while keeping us full! If your fridge is loaded with cucumbers just like ours, then we recommend you to use those cucumbers to make refreshing summer salads!


Also Read: Eating Hack: 5 Tips To Eat A Burger Without Worrying About It Falling Apart
Here're 5 Cucumber Salad Recipes For A Healthy Meal
1.Creamy Cucumber Salad - Our Recommendation
This viral salad has been winning hearts on the internet! The creamy cucumber salad recipe is quite easy to make and required a few simple ingredients. Cucumbers and onion are dressed in a creamy sauce made from sour cream, red vinegar, garlic powder and some sugar.


Click here for the full recipe for Creamy Cucumber Salad.


2. Tomato And Cucumber Salad
Another easy-peasy salad, this recipe requires a mix of chopped cucumbers, tomatoes, and fresh mint. The chilled salad is rich, flavourful and has a mellow yet delicious tasty dressing. You can prepare it in just 15-20 minutes.


Click here for the full recipe for Tomato And Cucumber Salad.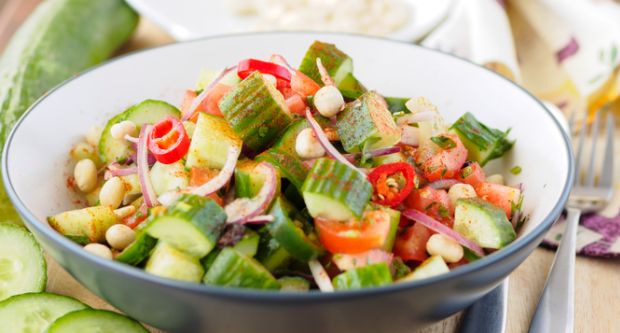 3. Cucumber And Peanut Salad
Also known as 'Kakdi Chi Kochimbri', this Maharashtrian salad is unique from other cucumber salads! The reason behind its uniqueness is that this recipe requires a delicious tadka of mustard seeds, hing and green chillies.


Click here for the full recipe for Cucumber And Peanut Salad.


4.Paneer And Kheera Salad
This salad pairs cottage cheese, which is high in protein, with cucumber, which is low in calories. This nutritious salad is all about a mishmash of diverse flavours with a variety of nutrients. It also has the crunchiness of onions!


Click here for the full recipe for Paneer And Kheera Salad.


5. Spicy Cucumber Salad
This spicy and crunchy cucumber salad is the perfect dish to make when you are running short of time to prepare a full-blown salad dish. Mix soy sauce, sugar, sesame oil, and sesame seeds along with other powdered spices and add them to the cucumbers.


Click here for the full recipe for Spicy Cucumber Salad.
Try out these cucumber salads and let us know which one is your favourite in the comments section below.