Story Progress
Back to home
Tomato and Cucumber Salad Recipe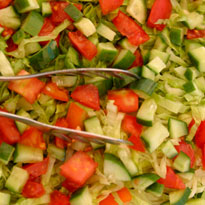 How to make Tomato and Cucumber Salad
Vinegar-drizzled cucumber and tomato tossed around with sour cream, pepper and mint.

Ingredients of Tomato and Cucumber Salad
1 Medium Cucumber (thinly sliced), peeled
4 Ripe tomatoes, sliced
90 ml Sour cream
2 tbsp White wine vinegar
2 tbsp Fresh mint, chopped
to taste Salt
to taste Black pepper
1.
Place the cucumber in a bowl and sprinkle a little salt and a Tbsp of vinegar and toss it around with 5-6 ice cubes.
2.
Chill for an hour and then rinse and pat it dry.
3.
Add the sour cream, pepper and the mint and pack it in a box.
4.
To serve - Arrange the tomato slices on a plate and sprinkle with the remaining vinegar and add the cucumber pieces in the center.