Full of culture and stories from India's rich history, Jaipur is a place that no one can describe in just a few words. There is so much to see and explore in every corner of this city that you will never get bored. Plus, if you are a foodie, then this place is surely heaven for you! Rajasthan is famous for the spicy and mouth-watering taste of fried bits. There is so much to explore in food that you won't be able to get enough of it in just one trip. However, if you have set out to explore the delicious bits of the city, here we bring you some must-try street foods from Jaipur.


(Also Read: A Rajput Legacy of Slow-Cooked Game Meat and How the Tradition Originated)
Here Are 5 Street Foods Of Jaipur That You Must Try
Of course, kachori had to be our top recommendation! This yummy and flaky crisp is an indulgent treat, perfect for any day and time. Jaipur is known for its yummy pyaaz kachori. The masala inside is so flavourful that you won't stop at just one piece.
Another most loved dish around the country is dal baati. This dish is made up of a dough that is baked over a tandoor and dal that has a spicy taste. Served alongside a variety of chutneys, this dish is a real treat! You can easily find this in any restaurant or even on the street side.
Wrapped in a newspaper and topped with chaat masala and chutney, these dal pakodas will make you drool! They are crispy and delicious in every bite. In every market, you can easily find a stall that sells these pakodas.


If you enjoy a spicy dish, this mirchi vada will become your number one favourite. Here, mirchis are cut and filled with a yummy aloo masala, then dipped in a besan batter and fried to perfection. Try this out with imly chutney.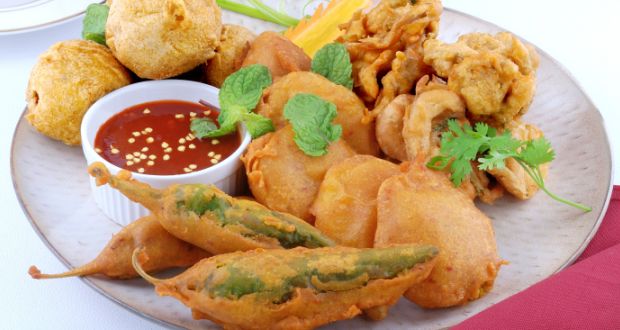 (Also Read: Khad Ka Pind: The Rajasthani Meat Delicacy Cooked Underground)
This sweet fried treat is loaded with sweetness and is popular not only In Rajasthan but also in other states. Many street vendors here have a shop dedicated to just making malpuas. Otherwise, you will also find this dish in many sweet shops. Plus, if you love extra sweetness, you can have this with a bit of rabri!


So, the next time you visit Jaipur, do try out these yummy dishes. Or, you can even make these at home. Do let us know which one is your favourite street food in the comments below!