Does anyone remember reading about Air India pilot, Captain Smriti Trehan? Two years ago, Ms Trehan was ordered to commandeer Air India's Mumbai-Delhi flight, but contravened the order and flew a Mumbai-Jodhpur-Delhi flight, leaving the airline and its passengers in disarray. The reason for this hullabaloo was her penchant for
kachoris
, specifically
Jodhpur
's famous Pyaaz Kachoris that she had ordered a parcel of. No doubt the case was more complicated than that, but the only part that interested me was how the humble
kachori
brought the mighty airline empire to its knees (if only for a couple of hours).
I have a sneaking sympathy for Ms Trehan's misdemeanours - I too, am powerless in the face of a good kachori. Although I haven't tried the Jodhpuri Pyaaz Kachori, I have been to Jaipur's famous Rawat Kachori and tasted its moreish Pyaaz ki Kachoris - brittle, ghee-soaked balloons with a belly full of onions and potatoes, laced with chillies and garlic. They were good enough to eat without any kind of chutney, and I ate four (four!) and took another four away in a parcel, to eat in the hotel room.
Delhi's Kachori Trail
Delhi has its own shades of kachori (or kachauri, as my Delhi friends call it). In the congested maze of Mehrauli bazaar, residents queue up for Sohanlal's Sabzi Kachauri, the golden globes eaten with amchoor-laced potatoes. On another visit, I tasted Jung Bahadur Kachori Wala's dal-stuffed kachori, served with spicy potato subzi that is spiked with chillies for extra heat. A friend told me about Fateh ki Kachori, the crunchy kachori served on little bowls made of saal leaves (dona) and crowned with chhole, a daub of sweet chutney, sliced onions, chillies and a symphony of spices. It is said that Fateh has been selling kachori-chhole opposite St Xavier's School in Kashmiri Gate for decades and although prices have surged upwards, demand for it has not ebbed.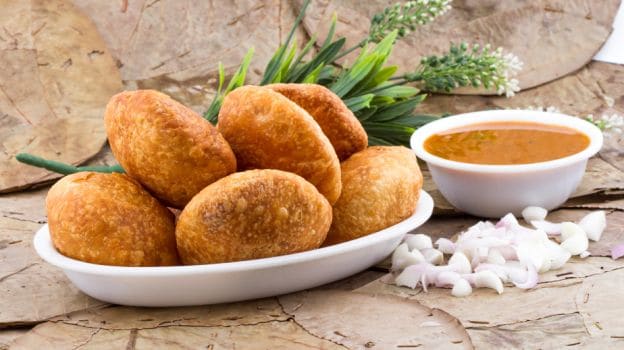 I remember reading about Narayan Das Halwai in Khari Baoli. Narayan Das Halwai is famous for its Hing ki Kachori, which, as you can imagine, are kachoris laced with pungent asafoetida. The kachori is served on a pool of potato gravy; you may use the kachori to scoop up the gravy or you may smash up the kachori, thrust all the pieces inside the gravy and eat it all together. Only a careful examination and many visits will reveal which is the best way. So those are definitely on my list for my next visit.
Old Delhi is also where I tried my only Bedami Puri, a puffy bread moulded from coarse whole wheat atta, packed with dal and deep fried. Bedami Puri used to be served with a spicy potato gravy, a sweet-tangy pumpkin subzi and Methi ki Chutney, although nowadays, some places forego the chutney altogether. I had mine several years ago at Jain Sa'ab's on Ansari Road after reading about it in several places. Jain Sa'ab serves all of the above along with slivers of pickled carrots.

Lucknow - the Food Haven
But it was in Lucknow's Bajpai Kachodi Bhandar, that I tasted perhaps the best kachori I have ever eaten. These were Bajpai's special kachoris, served hot from the spitting, bubbling, angry oil in the kadhai, in a cup of dry leaves. In this version, the flaky shell seemed almost puri-like, deep fried until golden and stuffed with a spicy, tangy potato filling, then served with sliced onions.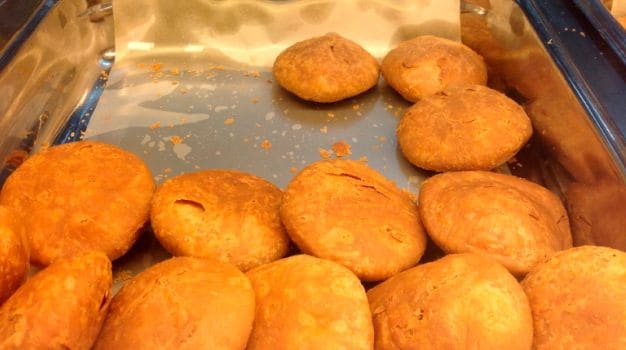 Lucknow proved to be quite a haven for chaat and elsewhere, I had the Khasta Kachori with its faithful side, the piquant Masala Aloo. The word 'khasta' means crisp and flaky in Hindi and true to its form, the shell of the kachori was deliciously crusty, and the chunky dal stuffing within, spicy and tangy. I ate it with a smear of Sweet Date and Tamarind Chutney, but that was gilding the lily. On a cool December evening, the steaming kachori was delectable on its own.

Kachori and its Many Variations
It isn't just northern and central India that have embraced the kachori. In West Bengal, the puri-esque kochuri is often consumed at breakfast together with Alur Torkari and lacy jilipis (jalebis) to undercut the heat. If the combination confuses you, imagine salted caramel or chilli-spiked chocolate - this goes together in the same way. Bengalis also have Radhaballabhi, which is made from white flour and filled with a green pea stuffing. It is eaten with Alur Dom or an Alu-Chhole Subzi.
Then there is the Raj Kachori, which has contrived, by virtue of its name, to be called the king of kachoris. And no wonder. Within a kachori sphere is filled to the brim with curd,Dahi Bhallas, chickpeas, boiled potatoes, and various chutneys. But the fillings vary wherever you go. In Mumbai, I once tried it at Bhagat Tarachand, where the shell is plump with curd, sprouted moong and potatoes, which makes it somewhat healthier.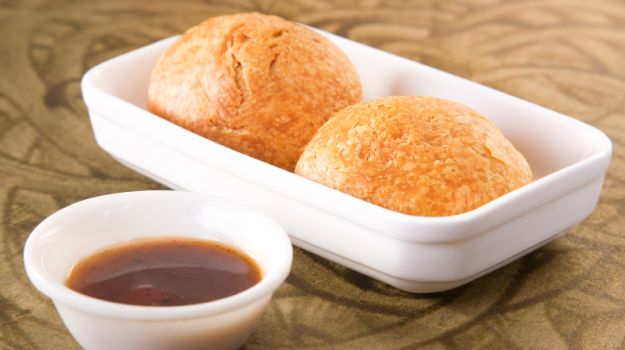 Kachori stretches across the border to Rawalpindi, too. I've never visited but I hear that on Ramzan nights, you are sure to find a clot of people carrying away packages of kachori with chhole. You may even buy raw kachori, so you can fry them at home and eat them fresh and hot. There is a twist though; these kachoris are usually non vegetarian and made of chicken or beef, although dal and vegetable versions are also quite popular.
Such is the kachori that almost anything can be used as a filling, even sweet. I don't have much of a sweet tooth but I was tempted by Rawat Mishthan Bhandar's Mawe ki Kachori. As its name suggests, this is kachori stuffed in mawa and dunked in a sugar syrup. You may even find a Meetha Kachori made of coconut and sugar. It goes very well with a steaming cup of chai.About the author:Meher Mirza is an independent writer and editor, with a focus on food and travel. Formerly with BBC Good Food India, she loves anime, animals and artsy things but also comics, technology and death metal.
Disclaimer:
The opinions expressed within this article are the personal opinions of the author. NDTV is not responsible for the accuracy, completeness, suitability, or validity of any information on this article. All information is provided on an as-is basis. The information, facts or opinions appearing in the article do not reflect the views of NDTV and NDTV does not assume any responsibility or liability for the same.