We might see everyone shooting off in a tangent in different directions when it comes to health studies. Nutritionists and dieticians, more often than not, fiercely engage in contrasting views about the same diets and it's not uncommon to see clashing research reports. However, there's one thing that everyone agrees on – we all should be consuming less sugar.Recently, at the James Beard Foundation Food Conference, Dr. Robert Lustig gave a thought-provoking talk that made everyone sit up and notice the bitter truth about the sweet stuff. So who exactly is Robert Lustig? He's a MD, Professor of Pediatrics in the Division of Endocrinology, University of California – San Francisco, and author of two books – 'Obesity Before Birth: Maternal and Prenatal Influences on the Offspring' and 'Fat Chance: Beating the Odds against Sugar, Processed Food, Obesity, and Disease.'According to him, manufacturers don't want you to know the recommended daily intake of sugar. They don't want you to know how much is too much, because if you knew how much is too much, breakfast cereal would disappear from the planet in a nanosecond. In case you're wondering, the recommended daily intake is no more than five percent of your diet, or about six teaspoons, according to the World Health Organization.
He says they have the data to tell you that sugar or sweeteners may cause Diabetes, Metabolic Syndrome and Fatty Liver Disease. Till now, they don't have data to prove that sugar can cause cancer and dementia. There is an association which says sugar causes insulin resistance, which causes cancer, but they can't show if the sugar does it, so it's difficult to make the direct link yet. The association was pointed out in an article titled 'Does Cancer Love Sugar?' by MD Anderson Cancer Center, The University of Texas MD Anderson Cancer Center.Lustig says that food manufacturers try to sneak in these sugars by listing them as the seventh, eighth, and ninth items on an ingredient list to fool you into thinking there's not a substantial amount of added sweeteners. In the spirit of sneaking them in and fooling buyers, they use different names for sugar. Here's a list of 56 of them and they use every single one of them.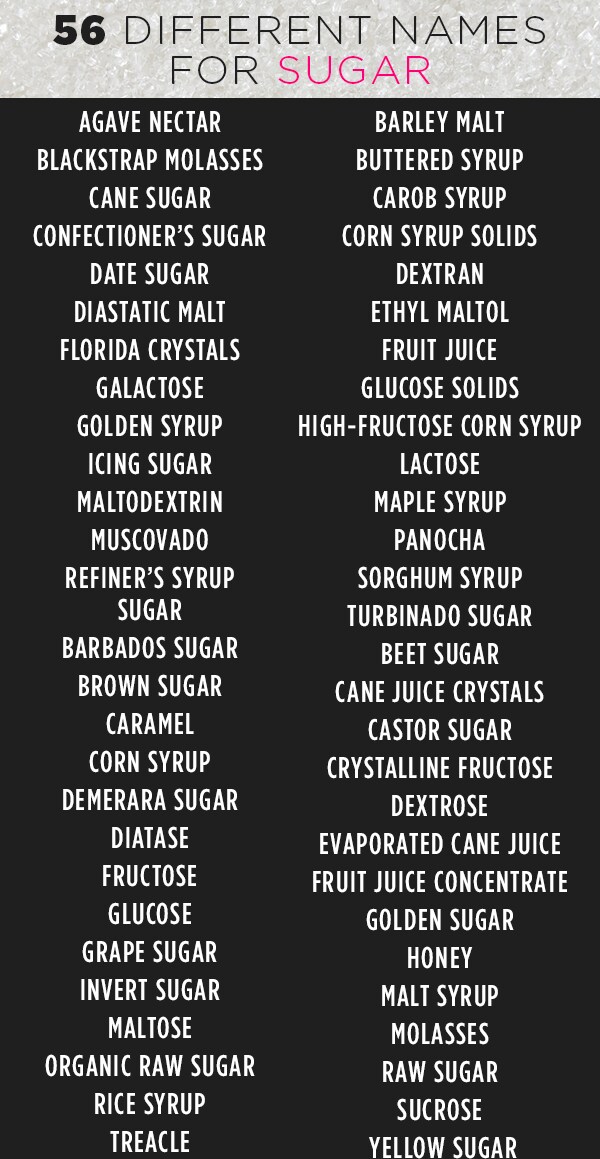 Photo Source: Women's Health
Dr. Robert Lustig says cutting out sugar is the need of the hour - most people don't even realize how much they're consuming it daily - and how many problems it can lead to in the long run. Hear his whole talk here.