The college admission season is about to kickstart soon, with young students just out of school who can't wait to begin their 'college phase'. What adds to the thrill of college life is also the hangout spots where friends can get together and catch up over delicious food and drinks without really draining their pocket money. So here are 8 popular joints that are a must-visit for Delhi students. These places would have you full in under INR 250! Yes, you heard us. So what are you waiting for? Get your friends together, grab your wallet and get going.
1. Law CanteenThe Law Faculty canteen is perhaps one of the oldest and the most loved canteens in the campus. Ever brimming with students from the entire Arts, law and social science faculty, the law faculty canteen is the meeting ground of debates, discussions as well as college gossips. The menu has remained quite the same for decades, serving you your regular iced teas, coffee, tea, aloo patty, burger and samosas. But that doesn't affect the popularity of the canteen to the slightest. Right next to it is this juice shop which serves mammoth-sized glasses of juice for just INR 40 and a quaint eatery serving North Indian thali for INR 35.
Where: Law Faculty, University Enclave, Delhi
Cost for two: INR 50


2. Metro Fast FoodMetro food van located right outside the Vishwavidyalaya Metro station on the Chaatra Marg is an absolute hit amongst the university students. Jam packed at all times with students relishing their mouth-watering Chinese and North Indian delicacies, Metro food with its generous portion, delectable dishes, pocket friendly prices and quick service has all grounds covered that makes a joint a student favourite. Their kathi rolls, noodles, soup, momos, Chilli Chicken and pasta are a must have.
Where: Chatra Marg, Near Vishwavidyala Metro station
Cost for two: INR 150

3. Laxman Fast Food The 20 somethings can't stop raving about this modest eatery, located at Qutub Institutional Area. Majority of Laxman Dhaba's crowd comprises the student community who throng the place for its pocket friendly delicacies and its lush green ambience. When actor Ranbir Kapoor was shooting for Rockstar in the vicinity, it was here that the crew had their mouthful of paranthas and various other items. Laxman Dhaba is also popular for its interesting varieties of paranthas; chicken, keema, egg, butter, onion, gobhi, mix, dhaniya and dal paranthas, all ranging between INR 20 to 75. Other recommended dishes here are Chilli Potato, Chilli Chicken and Chicken Macaroni and the all time favourite chai.
Where: Location: F-113, Opposite Indian Institute of Foreign Trade, Qutub Institutional Area
Cost For Two: INR 200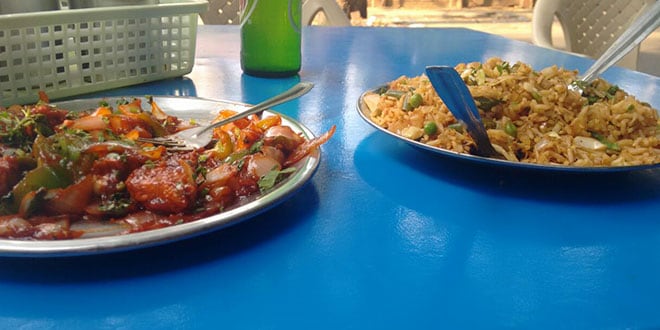 4. Spice AnganShawarma fans raise your hand! This little eatery tucked away in a corner of SDA Market has garnered quite some attention, especially from the regular school and college youth who can't stop going gaga over their good quality and light on the pocket Shawarma Rolls. Have a Single Chicken Roll for INR 60 or have a whole box for INR 200, you are surely heading home satisfied and happy.
Where: C-21/2, Opposite IIT Main Gate, SDA Market, SDA, New Delhi
Cost For two:200

5. ChowrangheeThere can hardly be a south campus student who wouldn't have gorged on to the filling and scrumptious rolls of Chowringhee. From egg, chicken, chicken keema, mutton keema, paneer lababadar to mushroom, Chowringhee's extensive variety of loaded and wholesome rolls are so famous that the outlet has already opened six branches across Delhi, but the Satya Niketan outlet undoubtedly stands to be the most frequented one. Amongst their other specialties are Tandoori Momos, Shawarmas, Chilli Chicken, Manchurian, Chilli Potato etc.
Where: 93, Opposite Venkateswara College, Satyaniketan, New Delhi
Cost for two: INR 250

6. Hunger StrikePutting an end to student's hunger with one of Delhi's favourite go-to delicacy - momos, is Hunger Strike in Amar Colony Market. And it does so with its own signature 'tandoori' twist. About three to four years in the business, Hunger Strike' has already garnered quite a fan following in this short span of time. Hunger Strike's menu boasts a multiple delicacies, like Shawarma, Kathi Rolls, but its most sold and loved item is Tandoori Momos. Grilled in tandoor, and tossed in a spread of yoghurt, and red chilli chutney, the momos are lip-smacking good.
Where: C-9, Amar Colony Market, Lajpat Nagar 4, New Delhi
Cost for Two: INR 250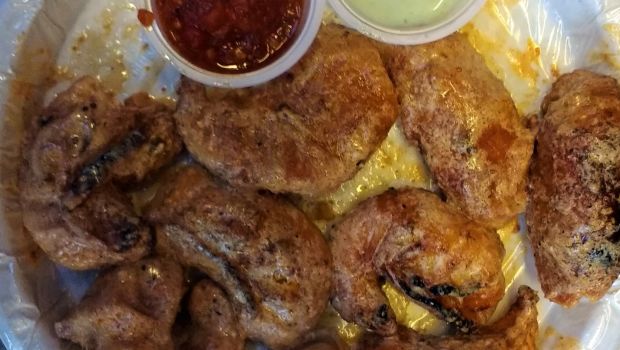 7. Tony's Pizza and Pasta Noodle and BowlOne of the favourite pocket friendly food addas for LSR girls and Frank Anthony School students is Tony's Pizza and Pasta Noodle and Bowl. The outlet excels in great variety of fast food dishes such as Chilli Chicken, Chilli Potato, noodles, pasta, spring rolls, burgers, momos, drumsticks, etc. Amongst drinks an impressive collection of fruit beer, sweet and salty lassi, cold coffee, kesar, pista and badaam milk which has its customers slurping all the way home.
Where: B-1, Guru Nanak Market, Lajpat Nagar 4, New Delhi
Cost for two: INR 250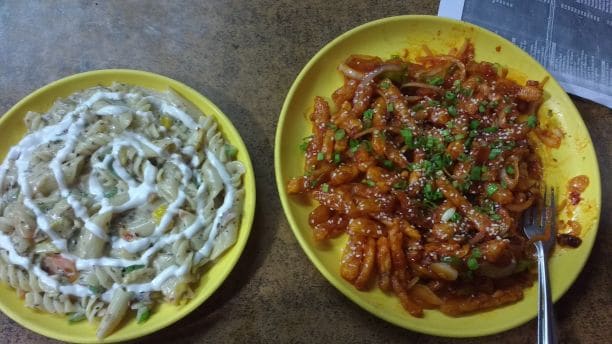 8. Delhi School of Economics Canteen
Also known as the D School canteen, it has a range of dishes that will wow your taste buds and make its way right into your hearts the very first time you step foot into the canteen. Don't forget to try their delicious Mutton Dosas, Egg Curry Rice, Mutton Cutlets, Masala Coke and Rajma Chawal. The canteen also serves thali, which is reasonably priced at just INR 25.
Where: Delhi School of Economics, University of Delhi,
Cost For Two: INR 200
About Sushmita SenguptaSharing a strong penchant for food, Sushmita loves all things good, cheesy and greasy. Her other favourite pastime activities other than discussing food includes, reading, watching movies and binge-watching TV shows.