Story Progress
Back to home
Iced Tea Recipe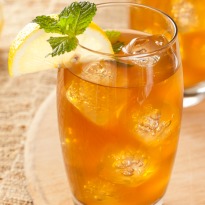 Beat the heat with a chilled glass of iced tea. This drink will cool you right down!

Ingredients of Iced Tea
1 cup strong black tea
2 Tbsp sugar or to taste - dissolved in some water
1 Tbsp lemon juice
Ice cubes to fill the glass
10-12 mint leaves-whole
Thin lemon slice-slit in one place to hang on the rim of the glass
A sprig of mint for decoration
1.
Fill the glass with the ice cubes.
2.
Pour over this the sugar syrup, lemon juice and sprinkle the mint leaves.
3.
Pour the tea over and stir gently. Allow to cool for a while.
4.
Place the lemon slice on the rim and decorate with the mint sprig.