A seven-city tour on wine and food pairing
IANS | Updated: December 09, 2013 13:56 IST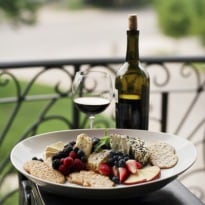 Picture this: master chefs across the country are given wine tasting notes and asked to conjure up an appropriate dish. The outcome? A 'Wine in Food' seven-city odyssey that checked in at a tony Italian restaurant at the Westin hotel here.

"Wine is an experience about meeting people. Food, wine and company go together in the celebration of life," Bhatia told IANS of the Seagram's Nine Hills-Master Chef Deepak Bhatia-Master of Wines Deepak Swamy journey that began in Pune. The odyssey wound itself here after passing through Mumbai and Bangalore, and now heads for Chennai and Hyderabad.

"We had wanted to go to Dhaka but given the situation there, we'll wait for things to settle down," he said in a reference to the political turmoil in Bangladesh following the announcement of general elections next month.

"There are super chefs at all Westin properties. We got them together, gave them the wine tasting notes and asked them to dream up their masterpieces by pairing the wine with the food," explained Adrian Pinto, Seagram's Nine Hills Wine senior manager business development.

"Wine is an experience! And it's this experience that we are bringing together," he added.

And what an experience it was!

The aperitif was a Nine Hills Rose, followed by a delicate chicken mushroom and truffle galantine with rosemary oil, accompanied by a Sauvignon Blanc.

The third course was a crisp hand-crafted Crustacean lasagna accompanied by a Chennin Blanc and quite appropriately, the main course - pan seared tenderloin with mushroom sauce and thyme-flavoured mashed potato - came with not one but two wines: a fruity Reserve Sharaz and a Reserve Cabernet Sauvignon. Rounding off the meal was a Pannacotta with fruit consomme accompanied by a Viognier.

"Times in India are changing and this initiative of talking pairing wines with Indian cuisine and educating people on cooking with wines is an excellent concept. I am also proud of being part of the process and hope wine becomes an integral part of the Indian kitchen," Chef Swamy said.

It certainly went down well.

"I usually drink red dry and semi-dry wines and find it interesting to taste Indian wines today. I mostly enjoy the Indian white wines but like the Rose I am drinking now," said Gurgaon-based image coach and personal branding expert Gayatri Sehgal.