I still remember my first visit to Switzerland a few years ago. This wasn't a typical summer sojourn but a trip that was planned smack in the middle of winter and the
Christmas
Season. The main agenda was to criss-cross some of the country's fabled winter destinations and skiing hubs like St Moritz. Along with all the cross country skiing, the most fascinating part of that visit were the Christmas markets. Some that were very traditional and others that sprung up in busy town squares and even railway stations. It was at one of these markets that I first discovered mulled wine.
There are few things that can comfort you like a warm glass of mulled wine on a cold night and it took just one swig for mulled wine to become my chosen nightcap for the rest of that trip. More recently I was in Berlin around Christmas where I was invited to a pre-Christmas dinner and where I rediscovered the pleasures of a soothing cup of home-made mulled wine. It's called Gluhwein in the German speaking parts of Europe. Gluhwein translates into 'glow wine' because this warm beverage is believed to lend your cheeks a pink glow.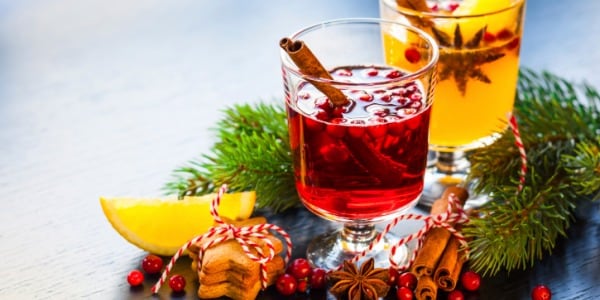 Almost every trail of wine leads back to the Romans who were credited with establishing viniculture as we know it, as early as the 2nd Century AD. Mulled Wine dates back to the same period and the first known recipe for Mulled Wine finds a place in one of the first known British cookbooks (or scrolls in this case) - The 14th Century Forme of Cury, that was published during the reign of King Richard II.
Spices in Mulled Wine
A mull usually refers to a beverage that is warmed with spices and sugar. I noticed the spice mix change from one winter market to the other but cinnamon and cloves were almost always in the mix. It's common for every home to add their own set of spices; at my friend's home in Berlin for instance the red wine is mulled with oranges, cinnamon, ginger, nutmeg and star anise while I've sampled mulled wine with spices as diverse as cardamom, bay leaves and vanilla pods. There's also Feuerzangenbowle (German for fire-tongs punch), that is an integral part of German Christmas and New Year celebrations where a rum-soaked sugar-loaf is 'flambeed' and gradually drips into the mulled wine.

It boils down (literally) to your preference. It's the same for the wine that you use. I would recommend that you use a wine that you'd like to drink. It's usually a red wine - a Merlot or Cabarenet Sauvignon, but you could also use a cheaper table wine. It's not entirely uncommon in Germany to use a white wine for your mix. If you're confused about what spices to use (and the proportion), you could order a mulling spice mixture (available on quite a few online portals) for your mulled wine fix. These spices are used in other mulled drinks like an apple cider and you could also experiment with warm fruit juices in the winter.
How to Make Mulled Wine
Mulled wines are almost synonymous with Christmas markets and the Christmas season in most parts of Europe. Vin Chaud in France, Svarene vino (boiled wine) in the Czech republic and Glogg (both alcoholic and non-alcoholic versions) across Scandinavia - each part of Europe has its own interpretation of mulled wine. The citrus fruit, spices, red wine and sugar are a constant but you can use your imagination to tweak the recipes. I stumbled upon an authentic version of mulled wine at the Park Hyatt in Chennai.
Teuku Syafrulsyah, the hotel's Indonesian Executive Chef, gathered the recipe from a German chef and is particular about sourcing juniper berries for his version. You can try this relatively simple recipe at home. Tis the season to be jolly and also the season to savour a warm mug of mulled wine.

Mulled Wine (Gluhwein)
Serves 8
Recipe Courtesy: Teuku Syafrulsyah, Executive Chef, Park Hyatt, Chennai
Ingredients:
125g castor sugar
1 cinnamon stick
6 juniper berries, crushed
1 pinch freshly grated nutmeg
1 orange, studded with cloves then cut into thin slices
1 lemon, thinly sliced
150ml orange liqueur (Cointreau)
750ml red wine
Method:
1. Place the sugar in a pan with 450ml of water. Add the cinnamon stick, juniper berries, nutmeg, one orange slice and the lemon slices.
2. Heat gently (Do not boil at a high temperature) to dissolve the sugar. Bring to the boil, then turn off the heat and stand for 10 minutes to allow everything to infuse.
3. Add the liqueur and red wine and heat through gently, then pour into a jug. Add the remaining orange slices and serve.
Tips:
- Ensure you don't heat for too long during step 2. If you use heat for too long or use a very high temperature, the alcohol will evaporate and might end up with a fruit cocktail!
- If you can't find juniper berries, you could add 4-5 pepper corns.About the Author:Ashwin Rajagopalan is a Chennai-based writer who writes on topics related to food, gadgets, trends and travel experiences. He enjoys communicating across cultures and borders in his weekday work avatar as a content and editorial consultant for a global major and one of India's only cross cultural trainers.
Disclaimer:
The opinions expressed within this article are the personal opinions of the author. NDTV is not responsible for the accuracy, completeness, suitability, or validity of any information on this article. All information is provided on an as-is basis. The information, facts or opinions appearing in the article do not reflect the views of NDTV and NDTV does not assume any responsibility or liability for the same.
About Ashwin RajagopalanI am the proverbial slashie - a content architect, writer, speaker and cultural intelligence coach. School lunch boxes are usually the beginning of our culinary discoveries.That curiosity hasn't waned. It's only got stronger as I've explored culinary cultures, street food and fine dining restaurants across the world. I've discovered cultures and destinations through culinary motifs. I am equally passionate about writing on consumer tech and travel.