A Twist Adds Complexity to a Pasta Dish
Mark Bittman , The New York Times | Updated: October 08, 2014 17:21 IST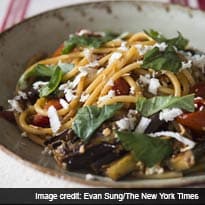 To me it's the best pasta dish of fall: those late nightshades, eggplant and tomato, cooked until meltingly tender, sweet and bitter at the same time, with plenty of anise-y basil and salt in the form of grated or small-diced ricotta salata.

For whatever reason, it's called pasta alla Norma - created in Sicily, it's said, as a tribute to an opera, it's said - but it's hard to believe anything more complicated than that eggplant and tomato have been cooked together since they were grown together, and that their sauciness made them a natural on pasta. Most recipes are not recipes at all, but reveal themselves naturally, in the course of things.

I make pasta alla Norma all the time, starting in August and ending when the last eggplants leave the markets. I make it slow and I make it fast, I make it carefully and I make it hastily. And truth be told, I make it well and I make it badly. I made it with a friend a couple of weeks ago who suggested, since there was time, that I slow-roast the tomatoes. They were cherries, and tiny, and would become incredibly wet on the stove, so it was a good idea to get rid of some of the moisture in hopes of producing a drier, thicker base.

I sliced them in half and put them, with salt and oil, in the oven for a couple of hours, the last hour with a piece or two of crushed garlic. When it was almost time to eat, I sliced in a half-dozen or so fairy-tale eggplant, the wonderful variety that's become popular and prevalent this year. Those I cooked in oil until they were soft, then drained them. I tossed them with the tomatoes, thinned the sauce a tiny bit with pasta water and put it in a bowl with the pasta and cheese and basil.
As I said, I make this dish all the time - I offered a different version of it last year. But never has it been better than made with those slow-roasted tomatoes. Try it.

Pasta alla Norma, My Way
Time: 3 hours, most of it unattended
Yield: 2 sizable or 4 smaller portions
20 to 30 cherry tomatoes, depending on size, cut in half
Olive oil
Salt
Thyme sprigs, if you have them
2 cloves garlic, lightly crushed and peeled
12 small eggplants, about a pound total, trimmed and cut in half the long way
300 grams of pasta, about 2/3 pound
2 to 3 ounces ricotta salata, grated or diced small
20 basil leaves, torn

1. Heat the oven to 275 degrees. Put the tomatoes in one layer in an ovenproof pan and drizzle them liberally with oil, then salt and sprinkle with thyme sprigs, if using. Roast for about an hour, then stir and roast for another half-hour or so. When tomatoes are shriveled, add garlic, turn down heat to 225 degrees and roast for at least another hour. They should not cook completely dry; if they threaten to overcook, turn the heat down or pull them out. Fish out the garlic if you like.

2. Sizzle the eggplant in about 1/4 inch of oil over medium heat. The oil should bubble steadily. Turn eggplant as needed until nicely browned. Drain on paper towels, and when cool enough to handle, cut roughly into strips.

3. Meanwhile, bring a large pot of water to boil for the pasta. Add the eggplant to the tomatoes and stir. If the sauce is too thick, thin it with a bit of the pasta water. Cook the pasta and warm a serving bowl. At the bottom of the bowl put half the sauce and half the ricotta salata. Add the pasta and the remaining sauce, cheese and basil and toss.

© 2014 New York Times News Service