Feasting, Pugliese style, making the best of fresh, healthy ingredients… tagliatelle with chickpeas, and broad bean puree. Photograph: Jill Mead for the Guardian.
For the third of our four-part series on Italian cooking, we eschew heavy meat and dairy in favour of simple, fresh abundance.
All of today's recipes " the third of our four-part series on Italian feasting " are cheap, healthy and vegan. Perhaps you think that doesn't sound like much of a feast. As Homer Simpson observed: "You don't win friends with salad."
The very word "feast" summons up images of carnivorous excess: Obelix scronching his way through a heap of wild boar; whole oxen turning on Tudor spits; swans stuffed with songbirds and served to pomaded emperors.
But some of us have neither the income nor the appetite of a Sun King. I don't actually enjoy feeling so overstuffed that my seams strain. I prefer my feasts plainer and less rich, leaving me room to breathe and chat.
So this feast comes from the rustic, rather than regal, tradition. The recipes are all from Puglia, in the sharp heel of Italy's boot. A flat and fertile area largely given over to farming, it produces olive oil, pulses and durum wheat (used to make pasta) in abundance.
Teamed with Mediterranean vegetables " tomatoes, rocket, courgettes, fennel, peppers, onions " these simple ingredients can be turned into bold and beautiful dishes. They will make your guests swoon and guzzle, without breaking into a gouty sweat. Salad may not win you many friends, but trust me, chickpeas will.
Tagliatelle with chickpeas
Traditionally, hard pasta was made only with flour and water. For the sake of speed, we have used the ready-made fresh pasta that you can buy in the supermarket, which usually contains eggs. Find an egg-free version if you want the meal to be fully vegan.
Serves 6
250g dried chickpeas, soaked overnight
6 garlic cloves
½ leek
½ red onion
2 cherry tomatoes
1 small dried chilli
1 sprig rosemary
400g fresh tagliatelle
150ml olive oil, for frying
Salt and black pepper
1 Drain the chickpeas and place in a pan. Cover with water and add the garlic, leek, onion, tomato (don't chop) chilli and rosemary. Bring up to the boil and simmer for about an hour until the chickpeas are tender. Make sure the chickpeas are always covered with water.
2 Remove the veg along with 100ml of liquor, discard the rosemary and blitz together the veg with the liquor in a food processor. Return to the pan and stir through the chickpeas. Season well.
3 Divide the tagliatelle roughly into three. Break it into shorter strips "about 6cm long. Cook one third in lots of boiling salted water. Add another third to the chickpeas and simmer until just cooked, adding more water if necessary. Fry the final third in hot olive oil until the pasta pieces are crisp. Remove with a slotted spoon and drain on kitchen roll.
4 Combine the cooked pasta with the chickpeas, adding a little extra water so it isn't dry. Season well and top with the fried, crisp pasta pieces before serving.
Broad bean puree
N'capriata or fave e cicoria, as it is known, is served with braised chicory and fried green peppers. Recipes can vary throughout the region, some having cooked mashed potato added to the puree. Below we are using padr"n peppers, chicory and chard.
Serves 6
250g dried, split and peeled broad beans (Hodmedod's are very good), soaked overnight
5 whole garlic cloves, peeled
100ml extra virgin olive oil, plus extra for drizzling
Salt and black pepper
200g padr"n peppers
2 tbsp olive oil for frying
200g chard or spinach leaves, stalks removed
1 tbsp olive oil
1 garlic clove, crushed
A pinch of dried chilli flakes
1 Drain the beans and rinse well. Place in a large saucepan and cover with water. Add the whole garlic cloves and bring to a simmer. Cook over a low heat for about 40 minutes or until the beans are soft, making sure that they are always covered with water. Place in a colander or sieve and leave to drain for about 15 minutes.
2 Transfer to a food processor with the whole garlic cloves, season well and blitz while adding the good olive oil until you have a smooth puree. You may need to add more oil " it depends how wet the beans are. Check the seasoning.
3 Fry the peppers in a frying pan over a medium heat for about 3 minutes, until the skins are slightly charred and blistered. Sprinkle with salt.
4 Blanch the chard or spinach in plenty of boiling salted water for a minute. Drain, refresh and squeeze out any excess water. Cook the crushed garlic clove and chilli for a minute in olive oil. Toss the cooked chard through the oil and season well.
5 Serve the puree, drizzled with a little oil, with peppers, chicory and chard.
Aqua e sale
Another great Italian dish using up stale bread " the chef Pietro Zito from Antichi Sapori, a restaurant near Andria, makes a great version.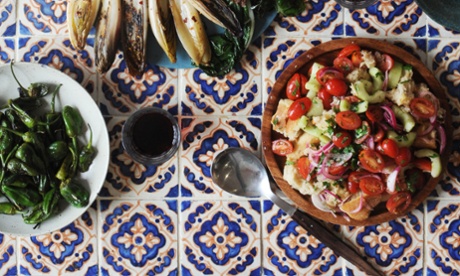 Serves 6
1 red onion, halved and thinly sliced
1 tbsp good red wine vinegar
A pinch of sugar
200g cherry tomatoes, halved
1 garlic clove, crushed
1 cucumber, peeled, deseeded, cut into 4 lengthways and then into 1cm pieces
2 tbsp chopped flat-leaf parsley
A pinch of dried oregano
250g old sourdough or ciabatta, ripped into small pieces
100ml water
Extra virgin olive oil
Salt and black pepper
1 Mix the onion with the vinegar and sugar and add a little salt. Set to one side for about 20 minutes.
2 Mix the tomatoes with the onion, garlic, cucumber, parsley and oregano. Season well and coat with olive oil.
3 Sprinkle the bread pieces with the water and fold through the vegetables. Drizzle with more oil and season again. Serve.
Henry Dimbleby is co-founder of the natural fast-food restaurant chain Leon. Twitter: @HenryDimbleby. Jane Baxter is a chef and food writer based in Devon. Twitter: @baxcooka