About Niru Gupta
NDTV Food | Updated: September 06, 2012 15:31 IST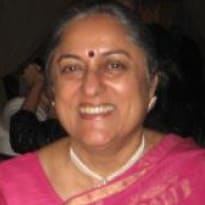 Niru Gupta, an Economics graduate from Bombay University tapped her latent culinary skills after she moved to Delhi, following her marriage. Being a young bride, having a foodie for a husband and a load of confusing cookbooks proved to be the combination to encourage her to write simple and easy to understand recipes.


A word from the author

If you are as fond of food and cooking as I am you will enjoy this site: Niru's Kitchen
The books mentioned are all the results of my being a "Foodie" to the hilt! Being so from ever since I can remember, plus having a "Foodie" for a husband, food became a passion with me. You can say my writing is my experience put into words. I hope you enjoy my "food talk" and recipes as much as I have enjoyed putting them together!!
My learning was through books and found that, many a times the dish did not turn out as it should according to the recipe! So when I turned out good food over the years I decided to write a book with as many tips as possible, so that a beginner like I once was, should have successful results. And was I pleased when I successfully experimented with teenaged nieces! That's when I knew that I had to publish a book.

Posts by Niru Gupta