Katrina Kaif recently made headlines for her look as a Bengali bride in her upcoming release Zero, which also stars Anushka Sharma and Shah Rukh Khan in the lead roles. The diva's breath-taking look in the film has created quite a stir among her fans online, who just can't wait for the film to release. Meanwhile, Katrina is a busy person, with news of her memoir also doing the rounds. According to several news reports, Katrina Kaif is all set to pen a memoir on her life that will trace her journey from her debut movie to her current status as a superstar.

Katrina joined Instagram only in 2017 and has beaten a lot of social media pros at their own game. The diva has garnered 10 million followers in a year and everything she posts becomes a hot news item. She recently posted a series of pictures from the idyllic Isle Of Wight in the United Kingdom and something from among the pictures caught our attention - a beautifully frosted cake. Have a look!

CommentsAlso Read: The 5 Mantras Behind Katrina Kaif's Fitness: Her Secrets Revealed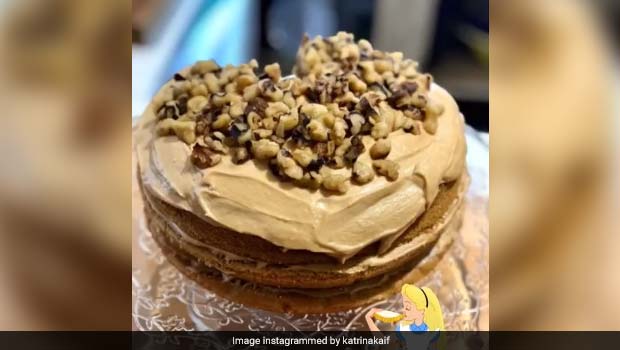 Doesn't it look absolutely delectable? From the colour of the frosting and the generous amounts of walnuts on top, we're guessing it's a multi-layered coffee walnut cake. What's your guess? We wonder if Katrina is having her cheat day early this week or if this cake is just to tantalise us enough to make us order one for ourselves! Either way, we're loving the look of the cake. This isn't the first time that Katrina has shown some special love to cakes. Exhibit B:
This was Katrina Kaif's birthday cake! "Birthday cake from Disney. I just loveeee birthdays ... Cake no. 3", said the caption of the picture. Same here, Katrina! On most days though, the super fit Katrina has a very austere diet and a disciplined workout regime. Katrina's diet mostly consists of fresh fruits and vegetables, and her diet is high in satiating fibres and low on carbohydrates. Well, we sure hope you enjoy your time in the UK, Katrina!
Bollywood actor