Classic Kolkata Cuisine's New Avatar This Durga Puja
IANS , Kolkata | Updated: September 12, 2013 13:14 IST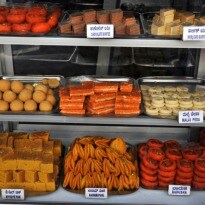 As Durga Puja draws near, a unique food festival will bring out the vintage flavours of the eastern metropolis along with classic Bengali recipes with a 21st-century feel.

Around 10 mouth-watering dishes culled from the classic era in Kolkata will be spruced up and presented to the foodies in a contemporary manner mirroring the way continental fare is served, as part of the "Old Flavours of Kolkata" festival at the Square 405 restaurant in Mani Square mall here.

Beginning Oct 4 (on "Mahalaya" that marks the advent of the goddess on earth), the clutch of additional items will be served till Dussehra Oct 14.

"Durga Puja is a special occasion ... We wanted to come out with a special menu during this time. Classic dishes like grilled chicken with barbeque sauce as well as traditional Bengali fare will be served in a new way," Mani group general manager Mrinal Sarkar told IANS.

Whether its the British-era fish florentine, a simple dish but considered fancy enough for dinner parties during the colonial period, or the staple of every Bengali kitchen - "aloo dum" (a potato dish), all the recipes will be dished up in contemporary tableware and nouveau garnishing styles.

"Usually traditional dishes are served in a plain and simple way but we are experimenting with new styles of presentation like the way continental dishes are presented," said Sarkar.

Besides the classics, north Indian fare popular among city foodies like chicken butter masala will also get a spot on the menu. Durga Puja, the biggest festival in this part of the world, would be celebrated Oct 9-14 this year.