Cornell University Seeks the Perfect Apple
Associated Press | Updated: September 30, 2013 12:11 IST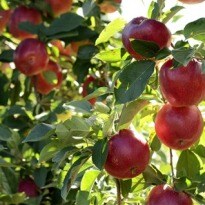 Trees at Cornell University's research orchard this fall are heavy with waxy apples, oblong apples and aromatic apples that smell like autumn. Some are sweet, others tart.

The thousands of trees are tended in a quest to grow better apples. The orchards are part of the New York State Agricultural Experiment Station. And they are essentially a 50-acre lab devoted to developing apples that are tasty for consumers and hardy for farmers.

The station has released 66 apple varieties over more than a century including Cortland and Empire. Two new entries will be sold at New York farm markets this fall: SnapDragon and RubyFrost.

Researchers are looking for crisp apples with a good balance of sugar and acid.