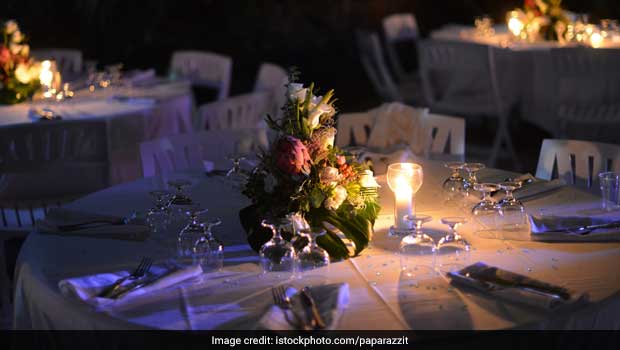 The definition of the 21st century is not just limited to food. Today it's all about providing a unique experience. We call these restaurants concept restaurants and restaurant owners have gone to lengths to provide this "unique experience." Remember how in olden days (read simpler times), when you were about to visit a city, people used to tell you about the monuments that you must visit? Well, today the same can be said about restaurants. The restaurants below come highly recommended from people who crave for new experiences.

Gufaa, Hyderabad
Yes, it means a 'cave' in English. This restaurant situated in Hyderabad leaves you mesmerized by its beautiful interiors fashioned around caves. The beautiful golden lighting, Mahagony furniture, and ceilings and walls of barren rocks definitely amount to a beautiful experience.
Where: Door No. 5-9-30/16-20, Ohri's Cuisine Court, Opposite Old Gandhi Medical College, Basheer Bagh, Hyderabad, Telangana

(Also read: 10 Best Quirky Yet Interestingly Themed Restaurants in Mumbai​)

Taste of Darkness, Hyderabad
Yes, that's how dark it is going to be inside this concept restaurant, which wants to provide its customer base with an experience of what it is like to be blind. The servers and other restaurant staff are visually impaired people who have been trained to perfection in cruising the restaurant and delivering food to you and also helping you with directions.
Where: 5th Floor, Inorbit Mall, Hitech City, Hyderabad
Dinner In the Sky, Chandigarh
How about dangling from a crane for an experience? Just add a pinch of salt and pepper to your experience and bingo! CCPL hospitality hosted an event Dinner in the Sky for the first time in India. This might soon become a definite go-to place for people visiting Chandigarh.

(Also Read: Best Outdoor Restaurants in Delhi: Dining Under the Stars)


Kaidi Kitchen, Chennai
No, these aren't your typical Tihar jail criminals but servers at the Kaidi Kitchen in Chennai. Talk about walking the extra mile to bring an X-factor to the otherwise regular eating experience! While the founders have tried to give the place an authentic prison look and feel, they have made sure that it doesn't look unhygienic in any way. This place is a haven for vegetarians and was started keeping in mind the vegetarian audience of Chennai.
Where: Next to St. Ebbas School, 20/3, Bishop Wallers Avenue East, CIT Colony, Mylapore, Chennai​


Rainforest Resto Bar, Mumbai
Now that we have covered Ice, and caves, and prisons, here is another restaurant that has left no stone unturned to replicate the real rain forest ambience: Trees, dim lighting, wooden panels, and free-flowing water will definitely soothe you on your way back home from work. Located in the very busy Phoenix Mall in Ghatkopar, this restaurant serves delicious Chinese, north Indian, Italian and sea food. If you are fond of prawns, then their hot garlic prawns would definitely leave you craving for more!
Where: R City Mall, Shop No. T20, 3rd Floor, Lal Bahadur Shastri Rd, Amrut Nagar, Ghatkopar West, Mumbai​

The Bar Stock Exchange, Mumbai
If you are a stock market junkie, chances are you would love this place for a simple reason that it is light on your pocket. This concept restaurant does not just look like the real stock exchange, but also prices its drink by tracking real time demand and supply. So, if your favourite drink is in ample supply you are going to get sloshed sooner or later. Once every day the market also crashes so the customers can trade their favourite drinks and buy them at a fixed base price.
Where: Juhu Supreme Shopping Centre, Opp Criti Care Hospital, Gulmohar Road 9, Vile Parle West, Mumbai​



From the fun of eating inside the jail to the thrill of witnessing a market crash, restaurant goers are denizens to no one place. They are always looking for a change to get more and that leads to restaurant owners innovating more and more to provide unique experiences to their customers. This cycle of demand and supply will lead us to more unusual and quirky eateries in the years to come. Till then adios!


Have you ever thought about how and why the first restaurant came into being? The idea of the modern-day restaurant first appeared in Paris in the 18th century. In those times because of limited medical advancements, diet was a huge part of controlling health and thus for those who could not afford a private chef, restaurants were simply a way of keeping healthy.
About Shubham BhatnagarYou can often find Shubham at a small authentic Chinese or Italian restaurant sampling exotic foods and sipping a glass of wine, but he will wolf down a plate of piping hot samosas with equal gusto. However, his love for homemade food trumps all.