It may not be deadly or fatal, but hiccups surely make for the most annoying condition one can go through. The first few times seem okay, but a continuous bout of hiccuping can be quite an uncomfortable experience. Hiccups are caused due to an involuntary contraction of the diaphragm - a muscle that separates your chest from the abdomen. The diaphragm also plays a vital role in breathing. Every contraction caused by an irritation in the body is followed by a sudden closure of your vocal chords, which produces the 'hic' sound. While this is not a cause of worry, continuous hiccuping may get irritating after a point of time.





Causes of hiccups





One of the main causes of hiccups are indigestion, gas or acidity in stomach, eating too quickly, certain medications, chewing gum, crying, coughing and anxiety or stress. Ideally, hiccups last for short periods of time. In case of prolonged hiccups, you must refer to a doctor.





Ways to stop hiccups





There are many tried and tested ways suggested by folks to get rid of them - these include drinking water, diverting your attention to something sudden or scary in your immediate surrounding, a loud pat on the back or simply taking deep breaths. Of all of these, downing a glass or two of water is, by far, the most commonly advised method.

(Also read: How to Stop Hiccups: 5 Remedies that Will Definitely Work)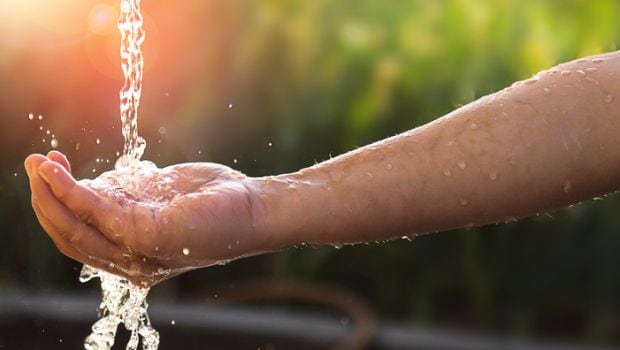 Downing a glass or two of water is, by far, the most commonly advised method
The other quick ways suggested by many to cure hiccups may include sucking a piece of lemon, swallow some granulated sugar, and consume vinegar (a very small quantity, enough to taste).
Is drinking water helpful in curing hiccups?
According to our expert nutritionist, Dr. Rupali Datta, "Hiccups are involuntary contractions that may or may not be cured with home remedies; also depends on how serious the condition is. Drinking water is just another remedy that may help if the case is not too severe." One should drink cold water in order to get rid of hiccups. Cold water helps in stopping the irritation caused in the diaphragm by various factors that cause hiccups and eventually helps in regularising normal movement. Quickly gulping down the cold water relaxes the momentum caused by the contractions in the diaphragm and relieves from the excessive amounts of spasms.
Well, there you have it - it works! So next time you are in the middle of a hiccuping bout, go ahead and have a glass of water or two.
And remember, in severe cases, you must refer to a doctor at the earliest possible.