McDonald's breakfast menu is served until 10.30am with some 24-hour locations making breakfast items available after midnight. Photograph: Mike Blake/Reuters
Amid declining sales and quirky promotions, the fast-food giant will test an all-day breakfast menu in San Diego in the coming months.
McDonald's is considering letting its customers start their day whenever they want, bringing in an all-day breakfast in an attempt to juice up falling sales.
At the moment, customers have to make it to their local McDonald's by 10.30am during the week to satisfy their cravings for an egg McMuffin or sausage McGriddles. According to CNBC, executives at the fast-food giant are now considering scrapping those rules.
Wall Street likes the idea. "We believe customers generally want to see McDonald's offer breakfast items all day," said analysts with Janney Capital Markets. A note from the analysts, citing industry sources, revealed that McDonald's plans to test all-day breakfast in one US market in the next couple of months.
"We know our customers love McDonald's breakfast, and they tell us they'd like to enjoy it beyond the morning hours. So next month, we will begin testing all-day breakfast at select restaurants in the San Diego area," Terri Hickey, a McDonald's spokesperson, told the Guardian.
"We look forward to learning from this test, and it's premature to speculate on any outcomes. We're excited to serve our customers in this area some of McDonald's great-tasting breakfast sandwiches, hash browns and other favorites all day long."
The company has previously said that the reason it doesn't serve breakfast all day is that they have limited space on the grills. "Here's the thing: it comes down to the sheer size of kitchen grills. They simply don't have the room for all of our menu options at one time – especially considering we use our grill to prepare many items on our breakfast menu," McDonald's explained on its website.
The company does offer breakfast after midnight at some 24-hour locations.
The focus on breakfast comes weeks after the company admitted that there was an "urgent need to evolve".
After nine straight months of falling sales, McDonald's hopes to transform itself into a "true destination of choice" in an effort to attract customers and keep them. In February, worldwide sales fell 1.7% and US sales were down 4%.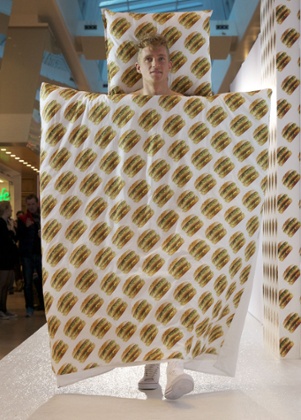 "Consumer needs and preferences have changed, and McDonald's current performance reflects the urgent need to evolve with today's consumers, reset strategic priorities and restore business momentum," the company said in a statement.
In the last month, McDonald's has tried other interesting ways to reverse its declining sales.
A week ago, on 24 March, McDonald's organized a marketing 'I'm lovin' it 24' campaign in 24 cities in 24 different countries. In Philippines, a toll booth became a McDonald's drive-thru that offered free toll and a free breakfast. In Milan, McDonald's threw a pajama party complete with a golden arches bed. In Stockholm, the company launched a Big Mac clothing and lifestyle collection at a McWalk fashion show. The collection is up for sale on bigmacshop.se. The profits will be donated to Ronald McDonald House Charities.
The company's most recent campaign "pay with lovin'", which allowed selected customers to pay with a dance, a hug or a fist bump, failed to boost sales.