Flatbread Supports a Quick Saute at the End of the Day: Recipe
This casual mushroom treatment can be used atop any flatbread you like: We used a lavash-type bread, but a tortilla, pita or even toast would work well, too.
The Washington Post | Updated: December 28, 2016 18:20 IST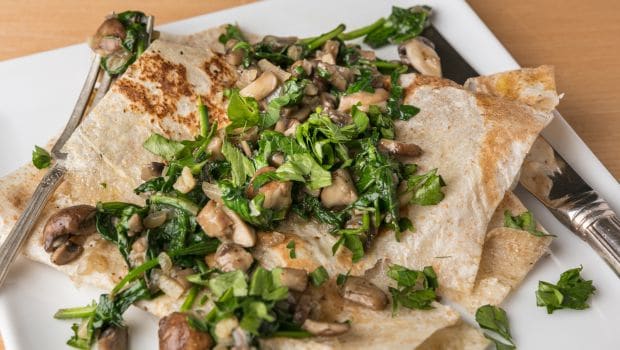 Photo by Goran Kosanovic for The Washington Post

Like many people, I have two styles to my cooking: for company, and for me and my partner. For the former, mostly on the weekends, I spend more time on dishes that are perhaps a little flashier and usually (but not always) more involved, and even if I get creative, I typically start with a solid base of dependable recipes. Night in and night out, though, what comes to the table is much more off the cuff. And sometimes when I start I don't really know how I'm going to finish, or what the result might be.

The more entertaining I do on some nights or seasons (such as during the holidays), the more I crave simplicity wherever else I can find it. Which is why a weeknight dinner is often a grain-bowl-type concoction of leftovers, or a taco or salad of the same.

Sometimes it's merely a quickly cooked vegetable or two, simply seasoned, perhaps bound together with a little something extra, then loosely scooped onto a starch of choice. That's what I did last week when I made a mushroom-spinach saute and piled it onto flatbread. The idea came from the new book "Eat Beautiful" by Wendy Rowe. She calls for making your own plain buckwheat flatbreads for the base, and I imagine the combination of the grain's earthiness would play well with the mushrooms and their touch of creme fraiche. But I found the dough to be so tricky to work with - simultaneously sticky and crumbly - that I gave up and dug out some frozen lavash to use instead.
The latter is more in the weeknight spirit, anyway. Perhaps the next time I'm cooking for company I'll tackle that dough - or a version of it - again.

Mushroom Flatbreads

2 servings

This casual mushroom treatment can be used atop any flatbread you like: We used a lavash-type bread, but a tortilla, pita or even toast would work well, too.

Adapted from "Eat Beautiful," by Wendy Rowe (Clarkson Potter, 2016).

Ingredients

1 teaspoon raw coconut oil
2 large or 4 small shallot lobes, chopped (1/2 cup)
4 cloves garlic, chopped (2 tablespoons)
2 cups (9 ounces) cremini or button mushrooms, trimmed and coarsely chopped
2 tablespoons crème fraîche (may substitute sour cream or coconut milk)
About 2 tablespoons finely grated Parmigiano-Reggiano cheese, plus more (optional) for serving
1/2 teaspoon kosher or sea salt, or more as needed
1/2 teaspoon freshly cracked black pepper, or more as needed
2 packed cups (3 ounces) baby spinach leaves
1/4 cup loosely packed flat-leaf parsley, finely chopped
2 pieces lavash or another flatbread (4 ounces total; see headnote)

Steps

Melt the oil in a large saute pan over medium heat. Add the shallots and garlic; cook until they start to brown lightly, 2 to 4 minutes.

Add the mushrooms, then reduce the heat to medium-low.

Cook, stirring occasionally, until most of the moisture released from the mushrooms evaporates, about 5 minutes.

Stir in the crème fraîche, Parmigiano-Reggiano, salt, pepper and spinach; cook just until the spinach wilts, 2 to 3 minutes.

Taste, and add more salt and pepper as needed. Stir in the parsley.

Serve on top of the lavash, garnished with more Parmigiano-Reggiano, if desired.

Nutrition | Per serving: 330 calories, 16 g protein, 43 g carbohydrates, 12 g fat, 7 g saturated fat, 20 mg cholesterol, 530 mg sodium, 7 g dietary fiber, 7 g sugar.
(c) 2016, The Washington Post


(This story has not been edited by NDTV staff and is auto-generated from a syndicated feed.)