North Indians and their love affair with chatpata masaledar khana cannot be stressed enough. Their dishes usually have the thick, moderately spicy and creamy curries that you would hate to miss. Thanks to the availability of a wide variety of vegetables, grains and spices, North Indian dishes are every foodie's dream come true. The cuisine is vibrant and delicious and enjoyed by millions. The rich North Indian food prominently uses the kadai (kadahi or wok) to make some delectable delicacies like Kadai Chicken, Kadai Paneer and other popular curries. One such favourite is Kadai Mushroom. The Kadai Mushroom recipe is cooked in gravy made with onions, tomatoes, aromatic and flavourful coarsely ground Indian spices, with an addition of capsicum sprinkled with kasturi methi, garnished with ginger juliennes and fresh cilantro.
The amazing Kadai Mushroom recipe is best cooked with button mushrooms, but you can use other mushrooms too. This delectably spicy recipe is cooked in a kadai or wok and is best enjoyed with Tandoori Roti and Naan. Made with freshly roasted spices, this Kadai Mushroom recipe can also be prepared without onion and garlic and it comes out equally tasty.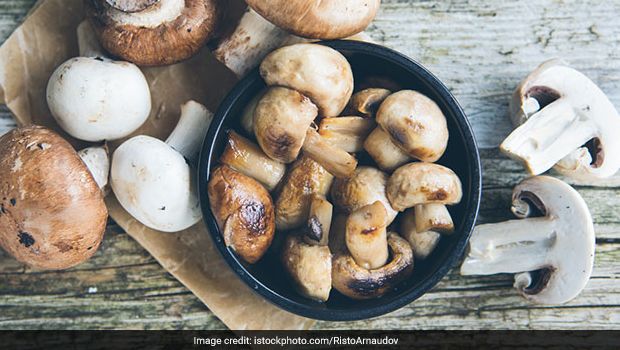 Here are some tips by Culinary Expert and Food Blogger, Chef Reetu Uday Kugaji that you should keep in mind while preparing this Kadai Mushroom recipe:
You may use other varieties of mushrooms, other than button mushrooms.
To clean mushrooms which are fresh and full of mud or dark spots, apply a little refined flour; wash them under running water, wipe and dry and use as desired.
You may slice the mushrooms and add in this Kadai Mushroom recipe.
You may skip adding the Punjabi garam masala as the Kadai Masala has already been added.
You may prepare extra Kadai masala and store in an airtight container for later use.
You may add a little turmeric powder, if desired.
If you are a fresh cream lover you may lace the prepared dish with fresh cream.
Kadai Mushroom Recipe: How to make this delicacy at home?
Here's a delicious Kadai Mushroom recipe by Chef Reetu that you would love to prepare at home.
Kadai Mushroom Recipe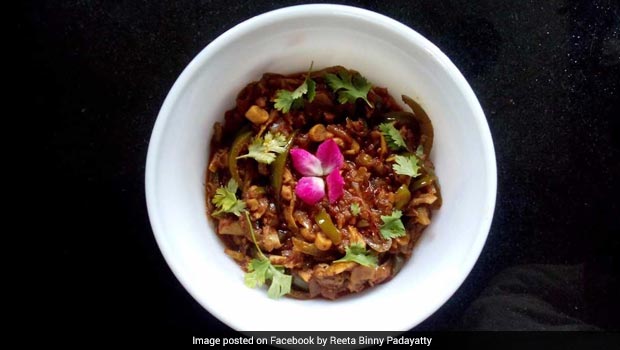 Kadai Mushroom recipe
Preparation Time: 10 minutes
Cooking Time: 20 to 25 minutes
Serves: 4
Ingredients
For the Kadai Masala:
Whole Red chillies, Kashmiri, stem removed- 4
Coriander Seeds- 1 tbsp.
Black pepper corns-1/4th tsp.
Cloves- 2 nos.
Green Cardamom- 1 no.
Fenugreek seeds- 1/4th tsp.
Cinnamon - 1/2 inch piece
Mace- 2 strands
Cumin seeds - half tsp
For the Kadai Mushroom gravy:
Refined Oil- 1 and a half tbsp.
Bay leaves- 2 nos.
Onion, finely chopped- 02 nos.
Ginger paste- 1 tsp.
Garlic Paste- 1 tsp.
Tomatoes, red, finely chopped- 5 nos.
Capsicum, cut into juliennes- 1 no.
Green chillies, slit- 2 nos.
Water -1/4th cup or more as desired.
Other Ingredients:
Button Mushroom, quartered and stir fried- 250 gm
Salt- to taste
Punjabi Garam Masala Powder- 1/4th teaspoon
Ginger, cut into juliennes- 1 inch piece
Cilantro leaves (Coriander Leaves), chopped- 1 tbsp.
Dry fenugreek leaves (Kasuri Methi), lightly roasted and crushed- half tsp.
Method:
Dry roast all the ingredients mentioned from whole red chillies to cumin seeds. Coarsely grind and set aside. You may grind it to a fine powder too.
In a heavy bottomed non-stick kadai add oil, let it heat add bay leaves
Add onion and saute, till translucent.
Add ginger and garlic paste and cook for 2 minutes.
Add tomatoes and cook till they are cooked i.e for 5 minutes. Add the coarsely ground masala and mix well and cook till the oil oozes out from all the sides.
Add green chillies, saute for few seconds.
Add capsicum and saute it for 2 minutes, it should be Al dente (just cooked) not discoloured.
Add salt to taste and garam masala powder.
Mix well. Add the water. Let it simmer then add the stir fried mushrooms. Cook covered for 4 to 5 minutes.
Sprinkle kasuri methi and serve very hot garnished with juliennes of ginger and chopped coriander leaves.
Goes best with Tandoori Roti.
Make the Kadai Mushroom recipe at home and impress your guests with this spicy treat!