Memories of summer vacations are almost always intertwined with food. Refreshing beverages to beat the heat, mangoes from all over India - each with its unique flavour and texture, and of course pickles. I've always had a very mild palate, and very few pickles piqued my interest. The Narthangai pickle was that rare exception. I enjoyed the tangy flavours of this mildly spicy pickle made with Kaffir lime, an essential ingredient across South Asia and South East Asia. The etymology of Kaffir Lime is open for debate. There are various theories about how this citrus fruit with its thick rind and flavoursome leaves acquired its unusual name - Kaffir can be a slur word in many cultures. But there are no disputes about the health benefits of this fruit.


The fruit is rich in Vitamin C. At a time when the quest for immunity boosters has heightened, Kaffir Lime has acquired more significance given its well-established immunity-boosting properties. It's also believed to be an excellent analgesic and promote digestion.


In many parts of South India, the Kaffir lime might be associated with pickle. But there's more to this ingredient (see recipes). In Tamil Nadu, the fruit is also called kolumichai or Darbhanga and in Karnataka, we know this as Heralekai. I remember a delicious rasam from my childhood that's quite similar to the lemon rasam. You can try some of these easy recipes at home.
Kolumichai Sadam/Kaffir Lime Rice - Recipe
This is an easy pre-mixed rice that tastes delicious even when it's eaten after a few hours, making it the perfect lunch box dish.
Ingredients
2 cups cooked rice
Juice of 2 kaffir lime
1/2 tbsp turmeric powder
1 tbsp peanuts
1 sprig curry leaves
1 tbsp mustard seeds
1/2 tbsp channa dal
1/2 tbsp split urad dal
2 red chilli
1 green chilli - finely chopped
1 tbsp finely chopped ginger
1 onion finely chopped
2 tbsp oil
Fresh coriander for garnish
Salt (to taste)
Method
Temper the mustard seeds, urad dal, chana dal, red & green chillies, ginger and curry leaves.
Add onion and peanuts and sauté for 2 minutes. Add the turmeric powder and Kaffir lime juice,
Add the cooked rice and salt. Stir well and cook on a low flame for 5 mins.
Garnish with coriander.
Kaffir Lime Chutney - Recipe
This dip brings the tangy flavours and the goodness of this fruit to the fore. It makes a great accompaniment for pakodas or kababs.
Ingredients
1 cup fresh mint
1 cup fresh coriander leaves
3-4 kaffir lime leaves(optional)
1/2 tbsp jaggery
Juice of 1/2 Kaffir lime
2 green chillies
4 garlic cloves
1/2 inch ginger
1/2 tbsp cumin seeds
1 tbsp roasted chana dal
Salt (to taste)
Method
Rinse the mint and coriander leaves and set aside. Soak the green chill and roasted chana dal in a cup of hot water for 30 mins until they soften.
Add all ingredients to a blender; grind to a smooth consistency with a small quantity of water.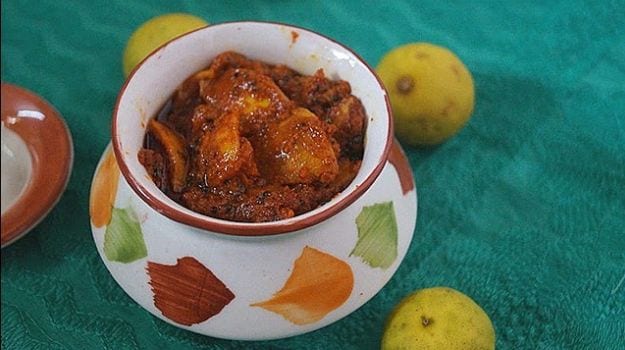 Kaffir lime / Naarthanga Pickle - Recipe
Perfect for the summer, this flavourful pickle can be served with curd rice or as an accompaniment for dosa or idli.
Ingredients
3-5 medium-sized naarthanga/kaffir lime
10-15 red chillies
1 tbsp fenugreek seeds
2 tbsp mustard seeds (for powder and for tempering)
3/4 tbsp turmeric powder
1/2 tbsp asafoetida
10 garlic pods (optional)
1/2 cup gingelly oil
1 sprig of curry leaves
2-3 tbsp salt
Method
Cook the kaffir lime in boiling water (use a pan with a lid) for 15-20 minutes on a medium flame.
Remove from the water and allow it to cool. Chop finely after you remove the seeds.
Dry roast the red chillies, fenugreek, and mustard seeds for 2 minutes on medium flame. Turn off the flame and then add the asafoetida.
Transfer this to a mixer and blend to a coarse powder once it cools down. Keep aside.
Temper the mustard seeds, curry leaves, garlic (optional) and turmeric powder. Add the kaffir lime pieces and mix well. Cook on a low flame for about two minutes
Add salt and the roasted coarse powder. Stir well. Cook this on a low-medium flame for 15 minutes.
Remove from flame and allow it to cool. Transfer to an airtight glass jar and store.