South Indian Recipes- Lunch time should be a memorable meal, after all you do need a good break while at work or even home. But then again, not all of us have the luxury of cooking scrumptious meals, and as such we always resort to easier options which save us time but aren't always healthy. The truth is that there are various lip-smacking recipes that you can dish out in a matter of a few minutes. Yes, you have heard us right. And if you love South Indian food, the endless dishes that you can whip up in a matter of few seconds is sure to take you by surprise.

Those who are familiar with South Indian food will know that the various regional dishes come packed with flavor. Even a simple plate of sambar and rice can make you feel happy and satisfied to the core. Rice of course is an important ingredient and as such one gets to see many rice-based creations such as tamarind rice, tomato rice, puliyogare, curd rice, bisi bele bhaat, among others that make for great lunch options. Moreover, they are super easy to dish out at home so cooking them is a breeze.

If you love veggies then you can cook them the South Indian way using ingredients like mustard seeds, curry leaves, grated coconut, tamarind, etc. Drumstick, brinjal, beans, cabbage and sprouts commonly feature in the South Indian lunch menu. For meat lovers, you can make flavorful stews and curries. For a more elaborate affair, how about trying the Malabar Fish Biryani or Mangalorean Fish Gassi? Tempted? Try our best South Indian lunch recipes.
Here's a list of top 13 South Indian recipes for lunch:


A tangy rice dish made with channa and urad dal, infused with the flavour of tamarind pulp. You can enjoy it with papad and pickle on the side.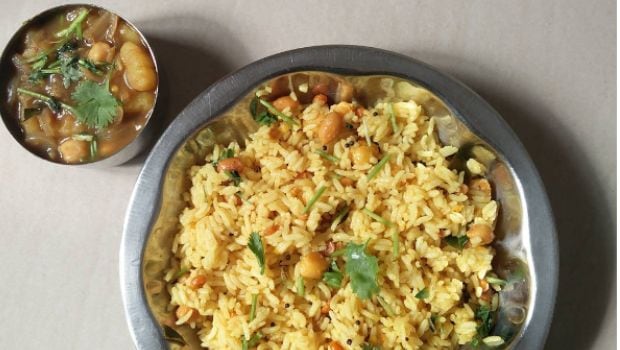 Best south Indian recipes for lunch: This dish is also known as Puliyodharai in Tamil language.
In tamil language, the word arachuvitta means to 'grind'. The sambhar is made with roasted spices which are then ground with fresh coconut, hence the name Arachu Vitta. This sambar recipe is made with urad dal, tur dal and a little channa dal, along with drumsticks, coconut, tamarind and spices.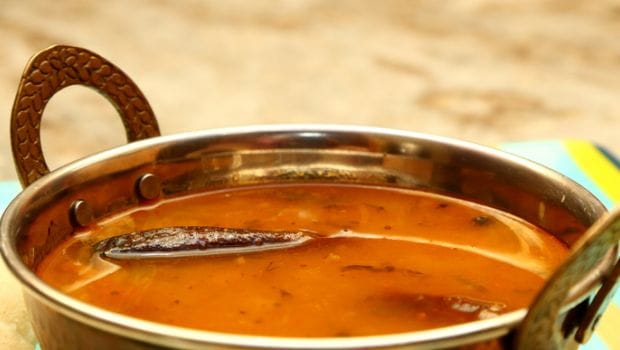 Best south Indian recipes for lunch: This sambhar is a Tambrahm speciality, made specially in tamil brahman homes.
In Malabar this dish is made with "kaima rice" a short grain mildly flavored rice. It is also known as the biryani rice of Kerala. This classic Malabar Fish Biryani can be devoured at all times.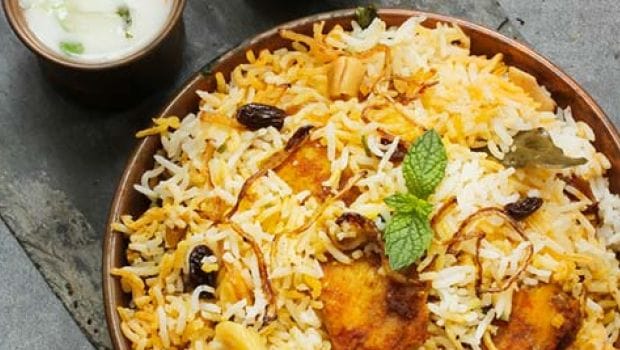 Best south Indian recipes for lunch: Enjoy the delicious taste of this ever-charming dish.
Avial is a traditional south Indian dish from Kerala. A thick mixture of vegetables like drumsticks, potatoes and carrots are cooked in coconut oil and mustard seeds. Served with red rice.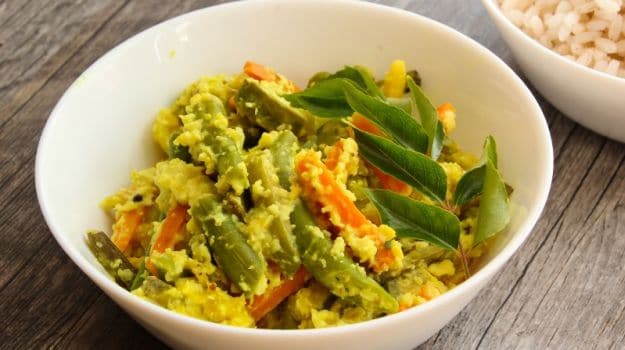 Best south Indian recipes for lunch: A salad made of cooked vegetables, seasoned with coconut paste.
Bendekaayi Gojju is a bhindi recipe from South India that belongs to Kannada cuisine. It's sweet, tangy and very masaledar.It is also known as Saasive Gojju (Mustard seeds curry) as it uses raw mustard seeds.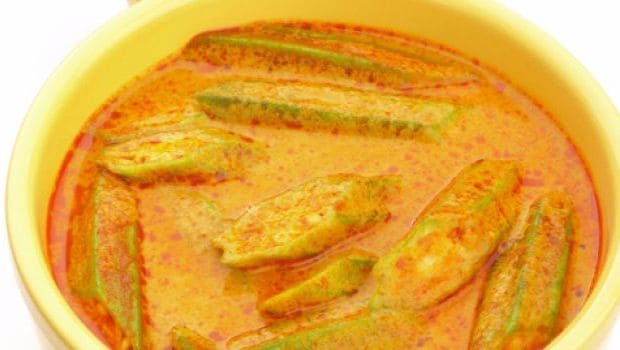 Best south Indian recipes for lunch:

This creamy gojju is a tangy, sweet and spicy curry that goes well with roti and rice.
A delicious, simple and easy to make Kara Kuzhambu using ripe mangoes. Popular during summer season and in parts of Tamil Nadu, this is best served with hot rice.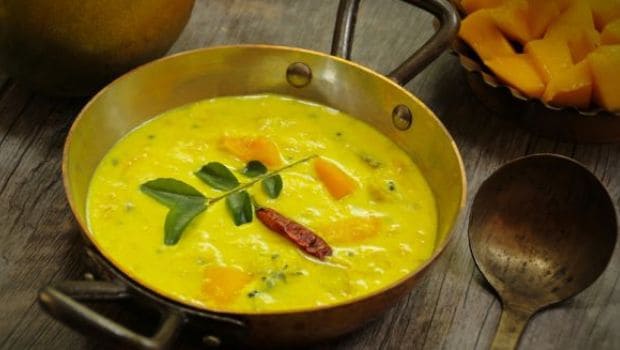 Best south Indian recipes for lunch: A beautiful curry with the tangy combination of mango.
In many South Indian households, Puliyogare is very common breakfast or lunch recipe. Basically, puliyogare is mix of left over rice and spices with tamarind and jaggery. these would result in a combination of sweet and tangy rice.


(Also read: Why is Puliyogare a hot favourite dish?)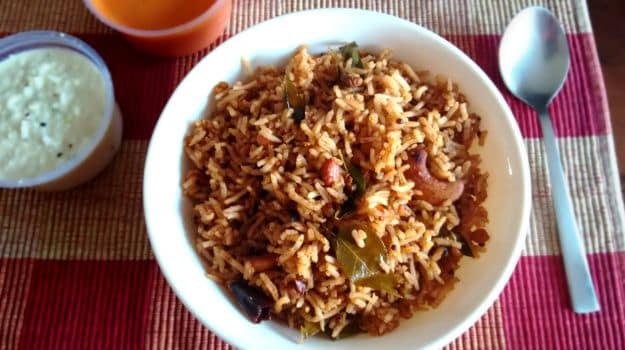 Best south Indian recipes for lunch: A popular lunch treat in South Indian, this spicy rice
South Indian lamb curry with coconut milk, tamarind and curry leaf tempering. Pair it with rice and enjoy your afternoon!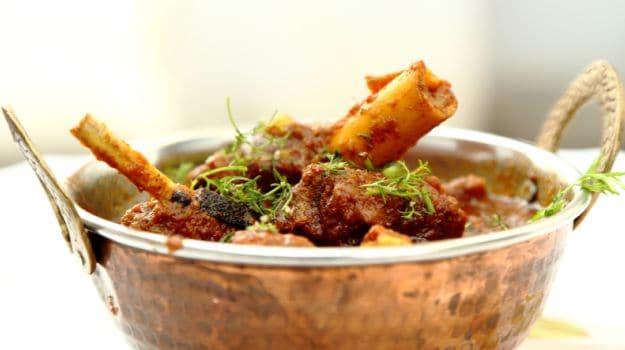 Best south Indian recipes for lunch: Enjoy this authentic delicacy with rice.
A Manglorean classic this delicious fish curry is ideal for anyone who loves seafood, spice and creamy coconut milk. Soothing combination of rich flavours that compliment any fish, this curry is not only tasty but is fairly simple to put together.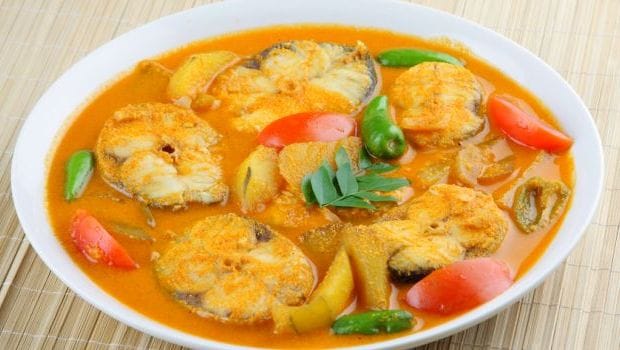 Best south Indian recipes for lunch: delicious fish curry, cooked in a coconut and masala paste.
Ariti Pooru Kobri is made from banana flowers, curry leaves, mustard seeds, red chillies and coconut. This dish hails from Andhra Pradesh, South India.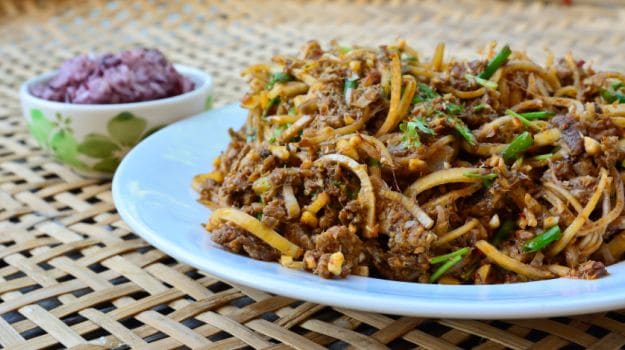 Best south Indian recipes for lunch: Worth a try for an everlasting taste.
This one's a seafood lover's delight. It is a prawn recipe filled with a melange of spices. Prepared with prawns, coconut, coconut oil, turmeric, coriander, tamarind pulp, et al and made to perfection, this curry is the perfect for your lunch. Pair this amazing recipe with rotis or rice.
Create magic with a tangy and exciting combination of amla, raw mangoes and rice. The mix is infused with the goodness of local herbs and spices and cooked to perfection.


If you are pressed for time, instant rava dosa is sure to come to your rescue. Just 30 minutes and simple ingredients is all you need to make delicious and crispy dosa. Make it to believe it.


Armed with our best South Indian Lunch Recipes, you can now get going and try each one of them and be the best host for scrumptious lunch parties.