Fascinating nightlife, beautiful landscape, relaxing beaches and delectable food offerings - Goa is undoubtedly one of the most attractive places in India. From beachside shacks to lavish restaurants and cafes, you will find a wide range of places to sit back, relax and enjoy delicious food along with chilled beverages in Goa. However, if you want to enjoy the authentic taste of Goan cuisine, there's no better way than indulging in a lip-smacking Goa-style thali. Believe it or not, once you savour the classic Goan thali, you will recommend it to everyone in your friends and family group. If you want to enjoy the taste of Goan thali in the comfort of your own house, we have something for you; something that may 'wow' you. Here we bring you 5 delectable Goan recipes that constitute a delectable Goan Thali. Take a look.
Here's A List Of 5 Recipes You'll Find In A Goan Thali:
Prawn Ambotik
Let's start with this one. It is one of the most famous prawn recipes in Goan cuisine. Rich, creamy, satisfying and scrumptious, this prawn curry recipe will increase your love for seafood for sure. Find the recipe.
Fish Reacheado
'Reacheado' means 'stuffed' in Portuguese. Simply put, it's a pomfret infused with a tangy reacheado paste and fried with onions till crisp and golden brown. Click here for the recipe.
Anyone who has been to Goa or heard of Goan food will definitely know this fish recipe. In this dish, fish fillets are flavoured with ginger, garlic and red chillies and are fried until golden to perfection. Later, garnish it with coriander leaves and you are in for a treat. Click here for the recipe.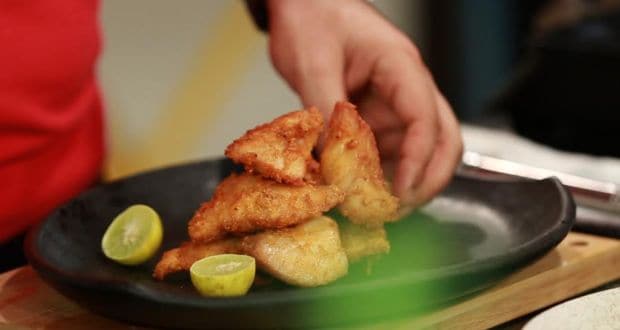 Goan Poi
For breads, people in Goa mostly prefer Goan poi. It is a popular Goan leavened bread prepared from wheat flour and bran to increase its nutritional value.
Goan Dry Prawn Kismur
A traditional salad recipe in Goan cuisine, Kismur can be made with any seafood, fish, prawns, shrimp, surmai and more. To prepare this, all you need is some dry prawns, tamarind, oil along with some spices to make it tangy.


Add steamed rice, papad and achar alongside, your Goan seafood thali is ready to savour. Try this at home and let us know your experience in the comment section below.


If you want to add more Goan recipes in this thali, click here to learn the recipes.