Jaggery
has always been touted as one of the best substitutes for refined sugar, containing innumerable health benefits. This unrefined form of
sugar
obtained from
sugarcane juice
is generally consumed in winters, majorly because it helps keep the body warm and further controls the temperature of the body; therefore, eating jaggery is not recommended in summers. However, if you cannot keep off jaggery, don't worry we've got a solution for you. The chilled Gur ka Sharbat is one of the drinks that you can enjoy anytime without really worrying about the repercussions. Read on as we tell more about it and a popular spot where you can find the best Gur ka Sharbat!
Gur ka Sharbat in Old Delhi
Gur ka Sharbat is a traditional drink that can be consumed any time in the day and replenishes your body in the sweltering heat. A quick drink to make, it requires you to mix water and gur until the gur completely dissolves and it develops a light brownish hue, but you can adjust it based on how sweet you want your drink. Add a dash of lemon juice for some tang and it's done.
If you haven't got a chance to have the best Gur ka Sharbat, then Aqeel Ahmed's small set up in Jama Masjid, Old Delhi is the perfect deal. We got in touch with him and this is what he had to say, "I started serving with my father when I was just 18 years old; now I am 40. My father, Zaheer Ahmed initiated this business of selling Gur ka Sharbat here in Old Delhi in the year 1947, post partition. This big brass spoon that I use to stir the mixture is as old as the shop itself. I believe my shop is the only shop across India that serves this drink. My son, who is 18 years-old, and I run the shop together." Aqeel sells a glass of sharbat for just INR 5, which he is not looking to increase anytime soon.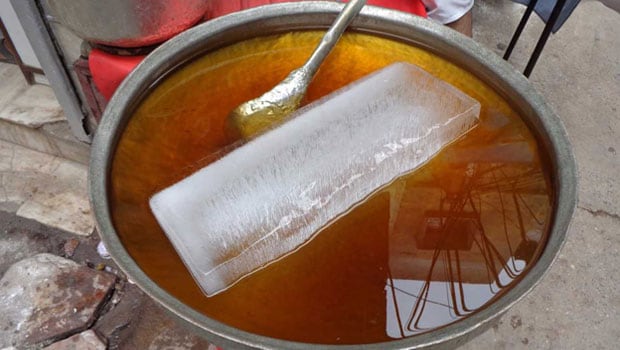 Telling us about how he makes his Gur ka Sharbat, Aqeel tells us, "We soak the gur in water and leave it for about half an hour, only if there are lesser people around. If the demand is higher, we smash the jaggery and then let it dissolve in the water, squeeze a lemon and serve with ice."
Where: Corner of Pahari Imli, Chitli Qabar, Bazaar Matia Mahal, Jama Masjid, Old Delhi
Opens at 8:00 am and closes at 9:00 or 10:00 pm
Not just this, you can make this chilled sharbat easily at home and experiment with more additions in it. Do let us know how did you like the taste of Gur ka Sharbat.