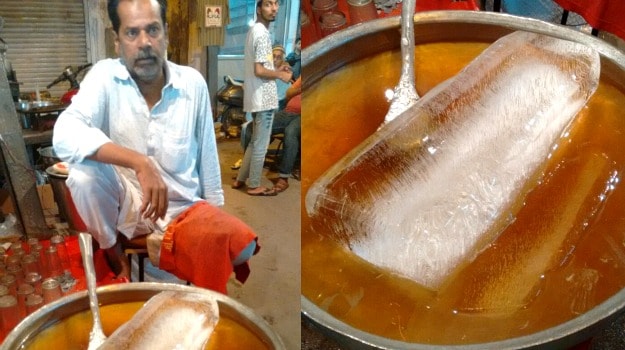 Akhil Ahmed's Gur Sharbat circa 1947. Address: Corner of Pahadi Imli, Chitli Qabar, Jama Masjid, Old Delhi
11. Controls blood pressure:
Jaggery contains potassium and sodium, which play an important role in the maintenance of acid levels in the body. It makes sure that a normal level of
blood pressure
is properly maintained.
12. Prevents respiratory problems:
By consuming jaggery regularly, you can prevent many respiratory problems such as asthma, bronchitis, etc. Experts recommend eating this natural sweetener with sesame seeds for wonderful benefits for the respiratory system.
13. Relieves joint pain:
"If you suffer from
aches and pains in your joints
, eating jaggery can provide you with much-needed relief", says Dr. Manoj K. Ahuja, Sukhda Hospital. You can eat it with a piece of ginger to alleviate
joint pain
, or even drink a glass of milk with jaggery every day to help
strengthen the bones
, thus preventing joint and bone problems such as arthritis.
14. Weight loss:
"Jaggery is surprisingly effective as an aid for
weight loss
. This is because jaggery is a rich source of potassium, which is a mineral that helps in the balance of electrolytes as well as
building muscles
and
boosting metabolism
. Potassium also helps in the reduction of water retention, which helps in managing your weight", says Delhi-based Nutritionist Anshul Jaibharat. These factors play an important role in effective weight loss, so if you're looking to lose some unwanted pounds, include this food in your diet.
15. Good source of energy:
While sugar is a simple carbohydrate that gets absorbed in the bloodstream instantly and gives instant energy, jaggery is a
complex carbohydrate
that gives
energy
to the body gradually and for a longer time. This means that the levels of blood sugar do not get raised immediately. It also helps prevent
fatigue
and weakness of the body.
Note:
It is, however, suggested to consume jaggery in moderation, as it is slightly higher in calories, containing up to 4 kcal/gram.