There's nothing quite as delicious as a plate of smoked
salmon
. It adds volumes of flavour to any dish it is added to, whether it is whipped into creamy
scrambled eggs
, curled onto a
pizza
, slivered into a quiche or frittata, or even just tossed into a
salad
. No wonder, smoked salmon is a fixture on restaurant menus and supermarket shelves. But suppose you could smoke your own salmon at home, with very little fuss, and no specialised equipment?In the story below, I offer a simple method of smoking salmon, a method that I have used myself several times, using nothing more than an old tin and a wire rack (and lots and lots of time). Once the salmon is smoked, you don't need to do anything to it-you can serve it as is. Or you can use the recipes provided below (a starter, a salad, and a main) to take your smoked salmon just a step further.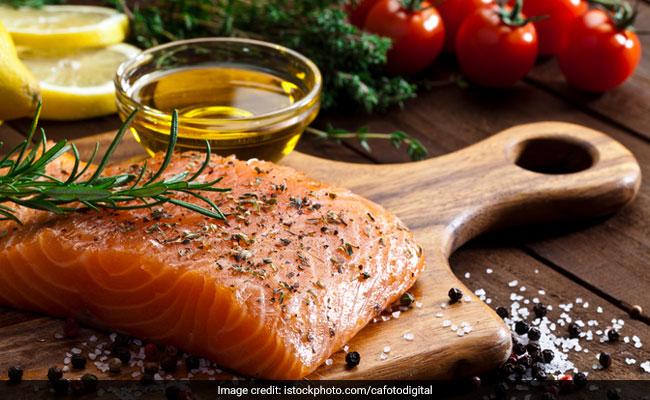 Smoked salmon is a fixture on restaurant menus and supermarket shelves
How to Smoke Salmon at Home
Centuries ago, people started smoking food as a way of preserving easily-perishable food, such as
fish
, that would go off quickly. But it also had the added advantage of introducing a delicious flavour dimension. You can smoke anything you want, really, even water, using whatever material is at hand- wood is the most common, but you may even use hay, tea leaves or aroma oils, anything that exude a pleasant aroma when smoked. Just remember to do this in an airy room, with windows wide open. I started smoking food at home, thanks to Heston Blumenthal's cookbook Heston Blumenthal at Home, and this recipe draws partly from his. This is the hot-smoking method here, not the cold-smoking method, which needs a bit more fancy equipment.
Smoked Salmon
Ingredients:
Salt - 400g (I've used only salt here, but you can flavour your salmon with peppercorns, celery and dill also. Simply grind the flavouring with the salt in a mixer).
White caster sugar - 50g
Assam tea leaves - 30g (you can use any kind of tea leaf you like)
Salmon - 500g (must be of excellent quality)
Thin tin - 1, large and wide. (You need to skewer a few holes in it, say with the screwdriver. You may use a biscuit tin for this).
Wire rack - 1, small enough to fit in the tin
Wood shavings / sawdust
Method:
It's essential that the piece of salmon you use is skinned and boneless (it is notorious for its tiny pin bones). Slice it very finely into equal-sized pieces.
Wet some of the Assam tea with water, and let it stand for a few minutes. Then lay the leaves over the fish, trying to cover as much of it as possible.
Completely cover the floor of a utensil with salt and sugar and place the fish on it. Next, cover the fish fully with salt, and leave it, tightly wrapped in cling film, in the fridge for 24 hours. Don't be afraid of using lots of salt; it will all be washed off later, leaving just a lingering saltiness in the fish.
After two days, rinse off all the salt, dry the fish by laying it on a wire rack, and pop it back in the fridge for an hour.
Meanwhile, place your wood shavings in the biscuit tin, and on top of that, layer the remaining tea leaves. Place the wire rack over it (it should fit in the tin). Layer the fish on the rack and shut the lid tightly. Put the whole contraption on the stove and cook for fifteen minutes or so. An alternative to this would be a simple steamer, if you can get your hands on one.
Allow the fish to rest for a few minutes, in order to let the smoke penetrate deeply. Voila! Your smoked salmon is ready. Ideally, finish eating it in a day or two.
Here's a list of three recipes that can be prepared using smoked salmon. Read on to know more about them.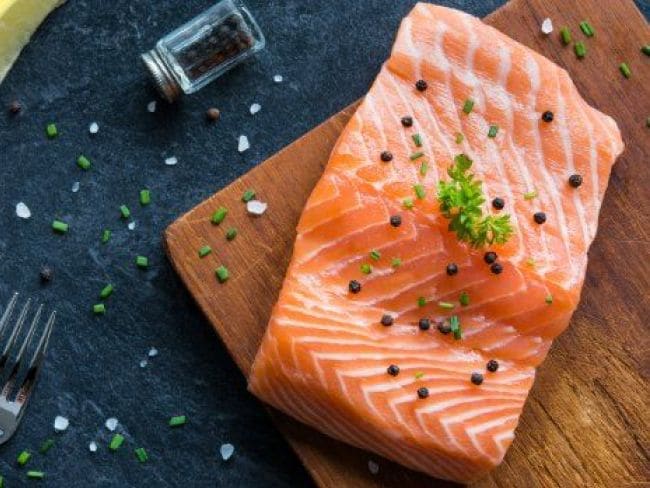 There's nothing quite as delicious as a plate of smoked salmon
Smoked Salmon On Toast
This recipe is a twist on a classic, the salmon blini, that is often served at cocktail parties.
Ingredients:
Smoked salmon - 100g
Spring onion - 1
Cream cheese - 1 tbsp.
Dill - 1/2 cup
Beetroot - 1/2, cooked
Toast to serve
Method:
Dice the beetroot and chop the spring onion finely. Tear the salmon into small pieces. Add all three of them to the cream cheese, and mix in the dill as well. Layer it on toast, and serve.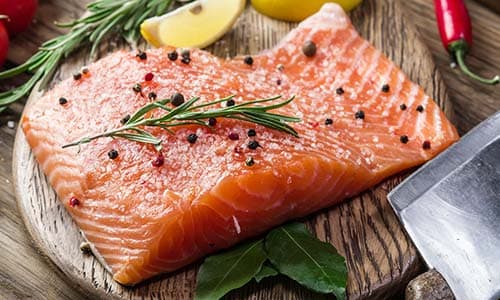 You can smoke your own salmon at home ​
Smoked Salmon Salad
This makes for a lovely, light salad that is great for a picnic on a pleasant day.
Ingredients:
Smoked salmon - 150g
Penne - 300g
Avocado - 1
Juice of half a lemon
Creme fraiche - 1 tbsp.
Salt and pepper to taste
Method:
Cook the penne as per the instructions on the pack. Meanwhile, tear the salmon into small pieces and cube the avocado.
Pour the creme fraiche and lemon juice and seasoning into a mixer and blitz until everything is mixed together. Stir in the avocado and salmon, mix well with the cooked pasta.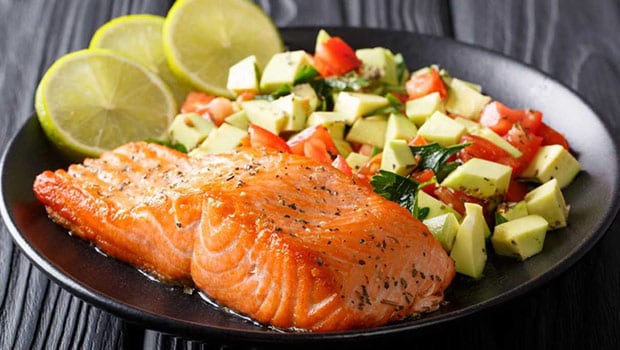 Salmon adds volumes of flavour to any dish it is added to
Smoked Salmon With Sweet Potato And Wilted SpinachIngredients:
Sweet potato - 1, washed and peeled
Salt
Olive oil - 2 tbsp.
Chilli flakes - 1 tbsp.
Smoked salmon - 150g
Spring onion - 1, finely chopped
Kashmiri chilli - 1, finely chopped
Spinach - 50g
Method:
Chop the sweet potato into medium-sized wedges. Mix thoroughly with the olive oil, salt, and chilli flakes, until every piece of sweet potato is evenly coated.
Then lay it all out on a baking pan over a baking sheet, and roast for 20 minutes or so. Then turn them over and roast for another 15 minutes, so that they are golden all over. You should be able to run a fork through them easily.
Meanwhile, add the spinach in a bowl of boiling water, and let it soften slightly. Then bring it all together on a plate. Season and serve with a wedge of lemon.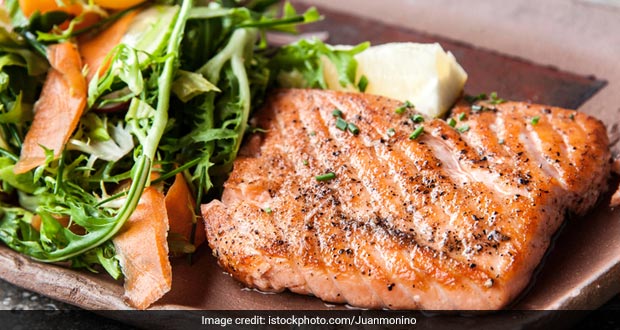 Once the salmon is smoked, you don't need to do anything to it-you can serve it as is
So next time you crave for salmon, bring these recipes to your rescue.