Happiness that comes packed in a box; it's got to be a pizza!
How can you not fall for the crispy crusts coupled with an exciting play of ingredients with gooey cheese atop? Pizzas are one of the most popular food items in the entire world. They are native to Italy and it is believed that pizzas were a subtle improvisation of flat breads prepared by ancient Greeks and Italians. Flat breads which are similar to focaccia are being prepared since the Neolithic age. Slowly and gradually, these were exposed to culinary experimentation that led to the discovery of pizzas. If records are to be believed, the earliest of pizza recipes dates back to 16th century in Naples.
The technique of pizza making was embraced by different cultures, fusing it with local ingredients and condiments. Fast food chains all across the world have been successfully serving fusion pizzas to lure and satisfy their regional markets. Interestingly, such experimentation has led to the discovery of several varieties besides the classics like Neapolitan, Margherita and Pepperoni.
Basics of the Base
The base forms the structure of your pizza. You can choose from ready-made pizza bases or can make one at home. Make sure that you knead the dough properly and pay close attention to the ingredients that you add. A little yeast is always desirable as it helps the base to rise properly. Adding lukewarm water and a little olive oil ensures a wonderfully smooth and soft dough. You can choose from a variety of flours for your base. From the traditional refined flour (maida) to whole wheat flour, multi-grain, soy flour and oatmeal flour, it's the rising demand for healthy alternatives that has made a variety of pizza bases popular - the newest and the hottest addition is the quinoa pizza base. (Pizza dough recipe)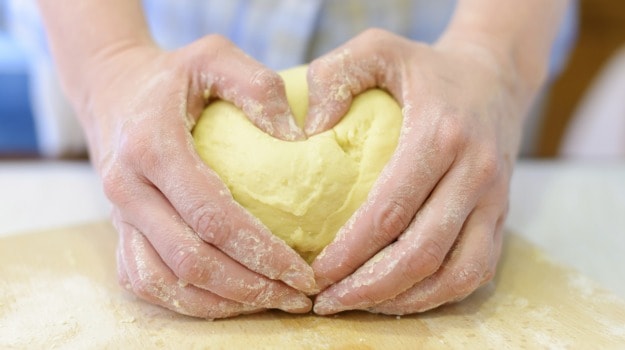 Kneading the dough perfectly is the most important part of making a pizza recipe.

Tip: Hand-tossing does not come easily. Try using the rolling pin instead. Cold fermented dough gives a better crust. Resting the dough in the refrigerator can significantly improve the texture and even help in browning.
Sauce it and Top Up
Cook your sauce at home or use the ready-made ones. You can choose between canned and fresh tomatoes, however, we'd suggest using fresh ingredients. In case you are using canned tomatoes and want to get rid of excess acidity, adding a little sugar may help. Onions, olive oil
You can let your creativity run wild when it comes to topping your pizza. Chefs and food enthusiasts across the globe try different ingredients to crown their pizzas - from aromatic herbs and garden fresh veggies to soy chunks, meat balls, prawns, cottage cheese, sun dried tomatoes, jalapenos, corn, mushrooms, fish and lots more. It is important to choose your crust accordingly. A heavy topping won't settle on a thin crust pizza.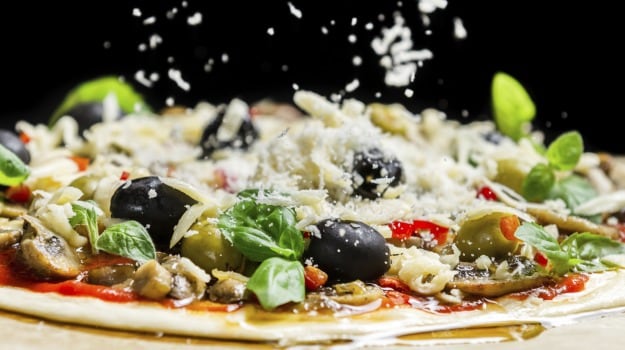 Say cheese!
Hot favourites include provolone and ricotta. Processed cheese is widely used due to its easy availability and melting properties. However, the stringy mozzarella cheese will always remain the classic and most preferred variety. Even scientists have proven it to be the best pizza cheese. According to a recent study published in the journal Food and Science, when tested for elasticity, stretchiness and perfect browning, mozzarella wins hands down.
Tip: Less elastic cheeses like cheddar can be mixed with mozzarella to achieve sensational flavour. Using cold cheese will prevent it from getting overcooked. Cheeses which are oily in nature should be avoided.
Now that you've got your basics in place, try your hand at some of our best pizza recipes.
1. Priyanka's Pepperoni Pizza Recipe
Recipe by Priyanka Chopra and Chef Alessandro Percico, Grand Hyatt, Mumbai
Priyanka Chopra teams up with Chef Alessandro Percico to show you the art of making the classic pepperoni pizza.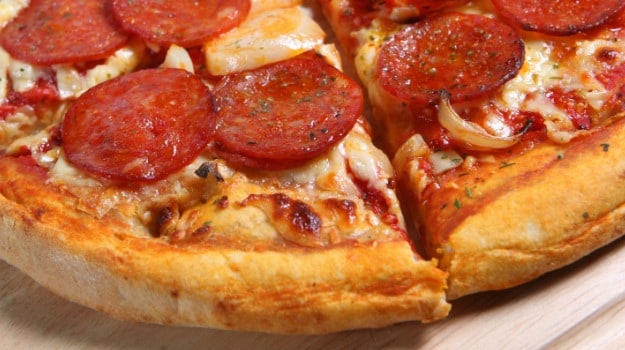 Priyanka's Pepperoni Pizza Recipe

2. Multigrain Pizza Recipe
Recipe by Chef Seema Chandra & Chef Chetan Seth
Good food is a combination of mouth-watering flavours and healthy ingredients. Your favourite pizza gets a healthy makeover with a multi-grain base.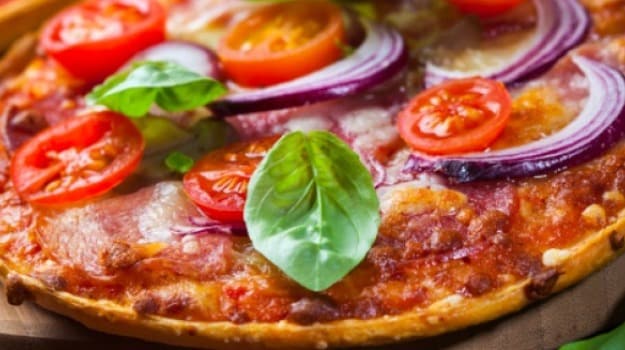 Multigrain Pizza Recipe

3. Meat Pizza Recipe
Recipe by Chef Manju Malhi
Explore the juiciness of meaty chunks embedded in gooey cheesiness. It can't get better than this.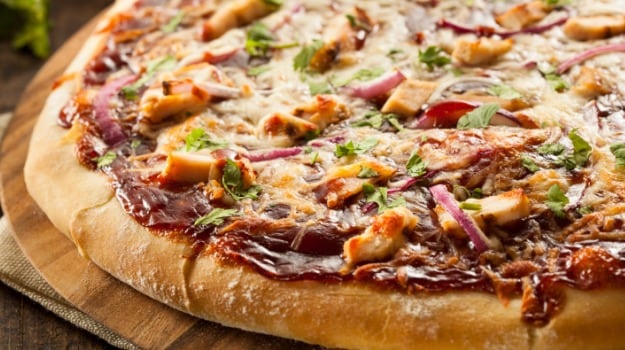 Meat Pizza Recipe

4. Margherita Pizza Recipe
Recipe by Chef Joey Matthew
Make way for the all time favourite pizza! Chef Joey Matthew simplifies the art of preparing this evergreen hit.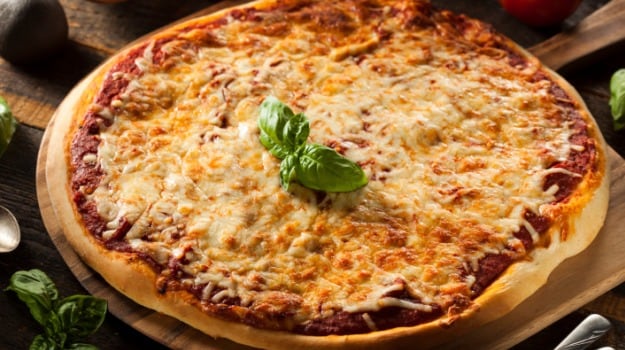 Margherita Pizza Recipe

5. Kebab and Paneer Pizza Recipe
Recipe by Chef Andy
Think out-of-the-box-cooking, think fusion food. This is what you get when Italian cooking marries Indian flavours.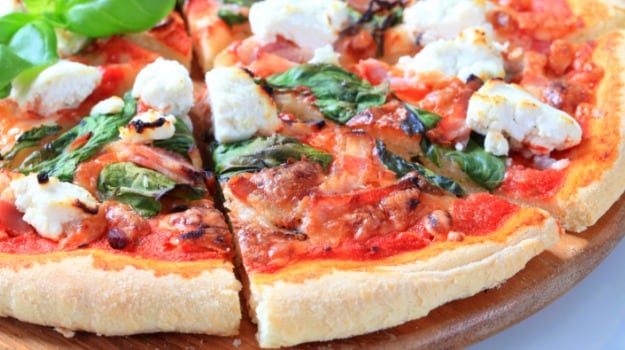 Kebab and Paneer Pizza Recipe

6. Wholegrain Pizza Recipe
Recipe by Chef Bakshish Dean, The Park, Delhi
A brilliant, gorgeous looking pizza that is high on flavour yet low on calories can strike a deal with anyone, right?

Wholegrain Pizza Recipe

7. Scone Pizza Recipe
Recipe by Chef Roopa Gulati
Making a scone based pizza is a great way to save time. It is quick and does not require yeast. The crust is thin and soft somewhat similar to a bread base.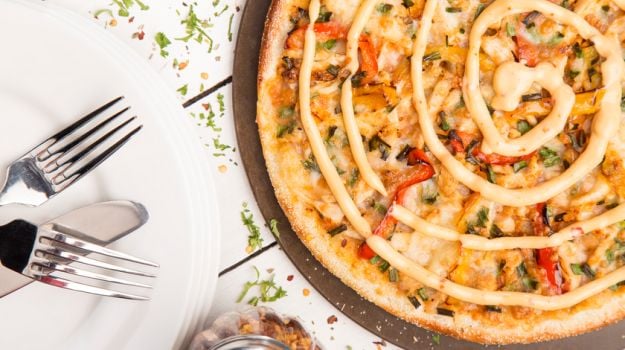 Scone Pizza Recipe
Recipe by Chef Manju Malhi
Garden fresh veggies come together to create a delicious symphony for your taste-buds. Lots of variety and a harmony of flavours teamed with unmatchable cheesiness, heavenly indeed!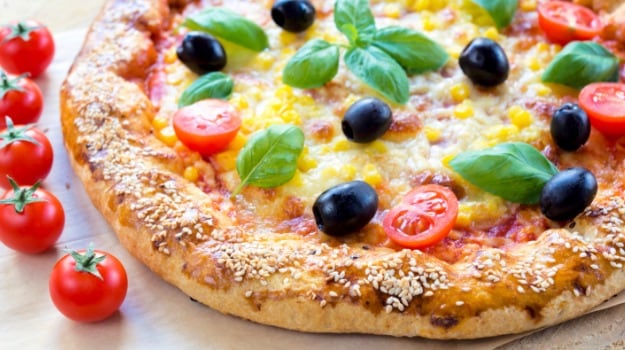 Vegetarian Pizza Recipe

9. Mexican Pizza Recipe
Recipe by Chef Aparna Goenka
Italian techniques combined with Mexican flavours - an unforgettable gastronomic experience!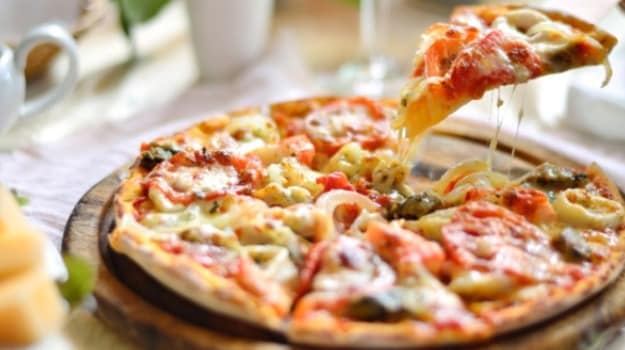 Mexican Pizza Recipe

10. Mini Mushroom Pizza Recipe
Recipe by Chef Aditya Bal & Chef Devanshi
Get ready to gorge on these little pockets of cheesy delights. Ready in a jiffy, these are an absolute crowd pleaser!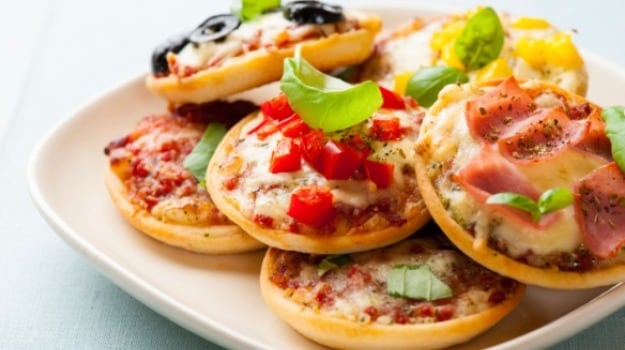 Mini Mushroom Pizza Recipe
(This story has not been edited by NDTV staff and is auto-generated from a syndicated feed.)