Here are 5 delicious fish curries, each one true to the cuisine they belong to.
A mound of hot rice on the plate, and a serving of steaming
red fish curry
, with perhaps some deep fried accompaniments on the side, which in my opinion are completely unnecessary – that's what most lunches should be about. But then again, I am biased. Growing up, and spending ones adult life with different fish
eating
communities of India, one does tend to develop a weakness for the 'gifts of the sea'.In our country, most coastal regions have recipes that are completely unique to the district, dominated by the type of produce and other local ingredients that are available. And it's not just
seafood
, states that lie close to rivers too depend on fish for their daily nourishment to a large extent. Each of these recipes brings beautiful
flavour
profiles to the cuisine they belong to. And here are my favourite five:
1. Masor Tenga:
The first time I ate the Masor Tenga was at a friend's house. She was at that time experimenting with various
Assamese
recipes, and I happened to be one the chosen 'guinea pig'. A fairly simple dish, the dish is all about fresh fish, and a delightful tanginess of the curry. To make this, you need 2 pieces of Rohu (river carp), 1 large and 1 small tomato, 2 green chillies, a pinch of fenugreek seeds (methi), a pinch of turmeric power (haldi), 1/4th teaspoon of fresh lemon juice, 1 tablespoon coriander powder, fresh coriander leaves (chopped), and mustard oil for cooking.- Begin by marinating the fish with a little
turmeric
and salt. Make sure the fish is washed well, and dried, before you do so. There should be little or no water on it. Leave it aside for about 7-10 mins. In the meantime, chop the tomatoes into medium-sized cubes.- Shallow fry the fish in hot mustard oil. Remove it from the pan when both sides are gently browned. I like to put the fish on a
kitchen
towel to soak the excess oil off. In the same oil, add the fenugreek seeds, and when you see it browning (you can also smell it in the smoke) strain them out of the pan.- Add the green chillies (make sure they are slit) and the chopped
tomatoes
. Let it cook till the tomatoes are ready. Add the rest of the turmeric, the coriander powder, and salt, and let it cook for a couple of minutes. Once the 'raw' smell is gone, pour in about a cup of warm water, and when the whole curry begins to boil, add the fish, lower the flame and let it cook for about 8-10 minutes.- Once ready, remove the pan, and garnish with the fresh coriander. I rarely chop coriander, but shred it with my hands over the dish. The lemon juice added at the end is optional. This
fish curry
is meant to be tangy, so if you can't find tangy tomatoes, use lemon juice. It's best eaten with hot rice, but of course.
2. Allapuzha Meen Curry:
My favourite Alleppey or Allapuzha fish curry is found at a restaurant. Chef Naren Thimmaiah of Karavalli in Bengaluru makes one with raw
mangoes
, a preparation that I haven't eaten anywhere else. And here's his recipe. To make this, you need 300gm Seer fish cubes, one grated coconut, 2 raw mangoes, 25gm Bydagi red chillies, 50gm whole green chillies, 1 sprig of curry leaves, 75gm shallots (small onions), 50ml coconut oil and rock salt to taste.- Begin by grinding the coconut and red chilli to a fine paste. Then strain the paste. Wash the fish and marinate with salt and turmeric powder.- Add little water into the ground coconut paste and boil for 10-15 minutes. Add the skinned raw mango pieces, curry leaves, and slit green chillies. Simmer for 8 – 10 minutes.- Heat the
coconut oil
and add the sliced small onions; fry them till they turn golden brown, and add the remaining
curry leaves
and temper with the gravy. Add the fish cubes into the gravy, and cook for about five minutes. This dish is best eaten with red rice or boiled rice.
3. Bangude Gassi:
Divya Prabhakar, who along with Vishal Shetty, runs The Bengaluru Oota Company in Bengaluru, has been working overtime to promote Mangalorean food, especially the ones from the lesser-known Gowda cuisine. The Bangude Gassi or mackerel curry, might take a little getting used to, but once you get the taste of it, you'll want to make it at home. To make this, you need 12 medium sized Mackerels, cleaned and cut into two. For the masala, you need 2 tablespoon of scraped coconut, 25-30 red chillies, 2 tablespoon of
coriander seeds
, 1 teaspoon of cumin seeds, 10-12 fenugreek seeds, a pinch of oama (ajwain), 2 tablespoon peppercorn, 8-10 garlic flakes, tamarind (a ball the size of 2 big lemons), and salt to taste. For seasoning, you need 1 finely chopped onion, 10-12 green chillies chopped, 2-inch fresh ginger (chopped), 1 sprig curry leaves, and 1 tablespoon coconut oil.- Dry roast the
red chillies
, coriander, cumin (jeera), methi, and the ajwain. Add in the rest of the ingredients for the masala (peppercorns, garlic, salt, and tamarind) and make a fine paste. Use about one and a half cups of water to bring the paste to a semi-solid consistency.- In a pan, add a little oil to just grease the pan, let it heat and add the whole
masala
. Then add the finely chopped onion, chillies, ginger, and the curry leaves, and set the cleaned and cut fish on top. Bring this whole mixture to boil. Add one tablespoon of coconut oil on top, and keep it on slow fire until it's cooked.- Instead of adding chopped
onions
to the masala you can also add a few chopped garlic flakes mixed with 1 tablespoon of coconut oil before taking the curry off the flame. It's a typical Mangalorean curry, and can be had with boiled rice, pundis, or neer dosas.
4. Malvani Fish Curry:
Spicy, tangy, and bright red in colour, the Malvani Fish Curry, typical to
Maharashtra
, is probably best eaten at a Maharashtrian home. It requires quite a few ingredients, but isn't too difficult to make. To try making this at home, you need about 500 grams of cubed Surmai (seer fish). Incidentally, whole Pomfret also works well. Along with this, take 1 teaspoon of cumin (jeera) seeds, 2 teaspoons of coriander (dhania) seeds, 5 dried red chillis (whole), a pinch of turmeric powder (haldi), 2 medium or 1 large onion, ¾ cups of freshly grated coconut, 8 whole
peppercorn
, 1 medium sized ripe tomato, 1 or ¾ tablespoons of tamarind pulp (it depends on how tangy you like your curry), 3 tablespoons of oil, and salt to taste.- If you're using boneless Seer cubes, your job is simpler. But for
Pomfret
, you need to clean the fish. I advise you to get it done when you're buying it itself.- Begin by roasting the cumin and coriander seeds on a skillet, and powdering them. Add the dried red chillies and the turmeric powder to the mix. Take the fish cubes and marinate with the mix, and some salt. Leave aside for a while as you prep the other ingredients.- Chop the
tomato
into small cubes and keep aside. If you're using one large onion, chop half of it into tiny pieces, and pound the other half with the coconut and peppercorn.- Add the chopped onions in hot oil and cook till they turn pink. Add the tomatoes, and fry till the oil beings to separate. Add the coconut-onion-peppercorn paste and cook on high heat for a couple of minutes. Then, add some water, and let the curry come to boil.- Lower the flame, add in the marinated
fish
and let it cook for about five minutes or so. Remember the tamarind? You need to make a paste of it by adding a little water to it. Now add that paste into the curry in a little water and it goes into the pan. But remember to lower the heat first. Leave it to simmer for about 4-5 minutes and remove it from the flame.
5. Prawn Malai Curry:
A specialty of
Bengal
, the prawn, or chingri machher malai curry, is a delicacy that Bengalis take pride in. And not everyone can pull it off to perfection either, as the dish, despite its fairly simple recipe, requires practice. To make this, you need about 500gms of fresh jumbo prawns (deveined; ideally leave the head on, but some people like to eat without it), 1 ¾ tablespoon of ginger paste (use fresh ginger and not packaged), 3 green cardamoms (elaichi), about 2-inch stick of
cinnamon
(dalchini), 2 bay leaves (tej patta), 1 cup coconut milk, 1 1/3 teaspoon of turmeric powder (haldi), 1 teaspoon of red chilli powder, 3 green chillies (slit), ½ teaspoon of sugar, salt to taste, fresh coriander (for garnish), 2 tablespoons of mustard oil and 3 tablespoons of freshly grated coconut.- Begin by marinating the
prawns
with some turmeric powder and half of the already-portioned red chilli powder. Incidentally, my mother also adds a bit of curd to the mix to keep the prawns soft. Set it aside for about half an hour. Once the time is up, cook the marinated prawns over medium heat. Add a little water to prevent them from sticking to the bottom.- In another pan, temper the cardamom and bay leaves in
mustard oil
, and once they start crackling, add the green chillies and the ginger paste. Reduce the flame and fry for two minutes. Keep stirring to make sure the paste doesn't burn. Then add the sugar, salt, the remaining chilli powder and turmeric. Then add the coconut milk and the grated coconut. Lower the flame further.- When the curry starts cooking, add the prawns and leave it on simmer for not more than six minutes. And keep an eye on the pan because if the prawn overcooks, the dish is pretty much ruined. You can garnish this with fresh coriander. Serve it with hot rice.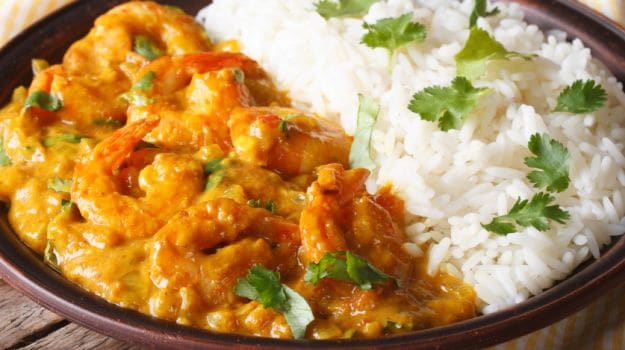 Disclaimer:
The opinions expressed within this article are the personal opinions of the author. NDTV is not responsible for the accuracy, completeness, suitability, or validity of any information on this article. All information is provided on an as-is basis. The information, facts or opinions appearing in the article do not reflect the views of NDTV and NDTV does not assume any responsibility or liability for the same.