High and Dry: Alcohol Ban in Kerala Affecting Tourism
AFP | Updated: September 11, 2014 18:58 IST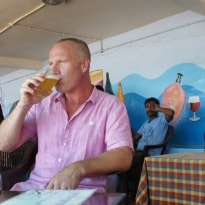 British tourist John Packer flew out to the tropical beaches of Kerala for a leisurely six-month break, but news of an imminent alcohol ban across the southern Indian state has made him rethink his destination. "It won't cut it for me," said the 41-year-old tiler, drinking a beer at one of the laid-back seafront restaurants in the resort town of Kovalam. "When I come away I want a nice few beers, to enjoy myself - I've worked hard for it," he added.

With its sweeping coastline, riverboats and emerald tea plantations, Kerala has become a leading tourist draw in India, promoting itself as 'God's Own Country'. But behind the paradisiacal slogan, the state has a damaging drinking problem among its 34 million population, leading the government to opt abruptly for almost complete prohibition - alarming the tourism industry.

More than 700 Keralan bars will lose their licences. Only five-star hotels will be allowed to keep serving booze and even they will have go dry on Sundays. Government-run liquor stores, where men queue up for their daily fix, will be phased out at a rate of ten percent a year for the next decade, leaving a big hole in the state coffers after alcohol taxes and fees generated more than $1 billion in the 2012-13 financial year.

"Kerala should get ready to imbibe the essence of (a) total liquor ban," said Chief Minister Oommen Chandy last month as he announced the plan.

Temperance activists may be happy but Suman Billa, a top civil servant in the tourism ministry, said the ban was a "major concern". "We take about a million international tourists every year for whom wine and beer is a part of their diet," he said. Along with holidaymakers' spending, the state has been raking in earnings from conferences and other business events at hotels. "There's always a cocktail and dinner that goes along with it. So I think it would be particularly unattractive if we were to say: 'Do come, but sorry, we won't be able to serve you any alcohol'," Billa said. His fears were backed up by a recent survey from travel portal HolidayIQ, based on 5,000 Indian respondents, of whom 58 percent said the booze ban would affect their travel plans.

- 'Wrong Message' -

Bar owners are hoping for an 11th-hour change to the policy and have taken the matter to court, fearing tourists will start opting for other regional destinations - perhaps the beaches of nearby Goa or Sri Lanka. However, with the government standing firm on the issue, they are only hopeful the law might be moderated somehow.

"We've got a lot of competition," said G. Sudhiesh Kumar, chief executive at the Hotel Sea Face in Kovalam, which has already started getting cancellations from repeat European customers. Kumar worries that youngsters in Kerala's crucial IT sector may start looking for work in other regions, while investors will be spooked by the sudden change to the laws. "Who's going to come and invest his hard-earned money here in Kerala? That is the wrong message," he said.

There is little denial of an alcohol problem in rum and brandy-loving Kerala, which has the highest consumption levels in India owing to its relatively high living standards, while the region also has a long tradition of home-brewing.

The Alcohol and Drug Information Centre, an NGO to prevent substance abuse, links 69 percent of crimes, 40 percent of road accidents and one in four hospitalisations to alcohol. "The women have been suffering, the homes have been suffering," said the centre's director Johnson J. Edayaranmula.

But even he believes the move to prohibition, although popular with most locals, has been ill thought through. "The government went into a hasty decision and they don't know what to do next," he said.

In Kovalam, many restaurants already do not go to the expense of paying for a licence and instead serve beer illegally in mugs, listing it as 'pop' on the bill. This clandestine system is now widely expected to grow, with money once headed for the government simply going into bribes. "People really like to drink here," said Cyril de Montaigu, a 31-year-old French backpacker, undeterred by the ban. "Prohibition never works, there's always an underground market."

As for Packer, he has decided to fly out of Kerala and instead spend his beer money in Cuba.