Good quality
alcohol
and food make for good table-mates. But booze and food mixed together are an even better combination for connoisseurs of fine eating. From whiskey-laced pork to a Bolognese sauce tempered with
red wine
and the very common beer-battered tempura - alcohol is increasingly becoming a popular culinary ingredient.
A Drunken Dish?
It is hard to pin point when and where the use of alcohol as an ingredient first started, but several cultures in the world, both Western and
Asian
have been known to use alcohol for years. Alcohol is either used directly or indirectly by turning it into vinegar first.
A major part of the reason for the rising popularity of using alcohol as an ingredient can be attributed to the versatility of alcohol - it is not just a fuel for cooking, but can be used to braise, deglaze and finish. In my experience of cooking with food (and personal preference too), putting alcohol in a dish is not so much about 'cooking' as much as it is about flavouring. Try cooking
pork
with Jack Daniels and you will know what I mean.
The Right Coupling
The choice of alcohol that you use for a particular dish will mostly depend on the complimentary ingredients in the
dish
and the final product that is expected. When using red wine for cooking, for example, I always bring it to a boil first to strengthen the flavour. The alcohol should complement and bring out the basic flavours of the dish. Not overpower the core flavours. Also reducing the alcohol first helps to concentrate the flavours.As with any food, keep it simple. Don't drown the core ingredients in alcohol. Also, a good rule of thumb that makes experimentation easier (and more successful) is to pair light coloured alcohol (or beers, spirits or wine) with similar coloured food - whether it is meats or
proteins
, sauces or cheeses. Darker alcohol should be paired with darker foods.While you raise a toast to mixing alcohol with your food, more literally, I would like to share a basic recipe as a good starting point. This Parsnip & Apple Soup with Cider Reduction is one of my personal favourites.
Parsnip & Apple soup with Cider Reduction
Preparation Time: 10 minutes
Cooking Time: 10 minutes
Serves: 4
Ingredients:
· Parsnips 500gms, thinly sliced· Granny Smith apples 200gms, thinly sliced· Cider 500ml· Cream 250ml· White onions 150gms· Unsalted butter 80gms· Sea salt to taste· White pepper to taste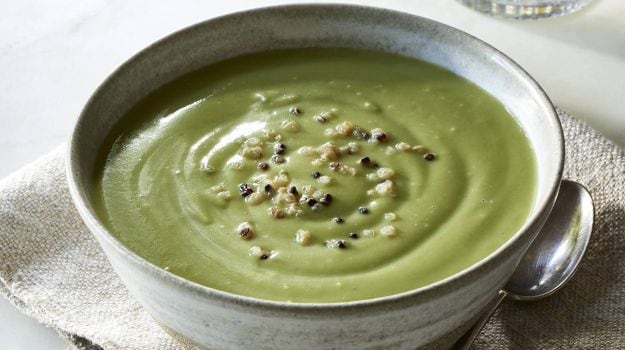 Method:
1. Sweat the sliced
onions
in butter with some sea salt. Add the thinly sliced parsnips.2. When cooked half way through, add the diced
apples
. Meanwhile, reduce the cider by half and keep aside.3. Add cream to the pan and simmer for 5 minutes. Blitz it in a blender.4. Add the
cider
reduction while blending. Pass through a fine sieve.5. Serve hot with some chopped parsley and diced apples.