One of the most loved and relished delicacies of all time that is loved by both kids and adults, undeniably remains to be pizza and pasta! Versatile, filling and extremely delightful, both of these Italian dishes can be experimented in various ways. However, these cheese-laden delights come with their own set of calories that may cause harm to your health, if consumed without moderation, especially if you are on a weight loss diet. So, if you are stuck with a situation like this, here we bring you a surprise. We have shortlisted 5 ways in which you can add protein to your pasta. Wondering how? Take a look below.
Here're 5 Protein-Rich Pasta You Must Try:
Paneer Pasta: Our Recommendation
If you are someone who thinks pasta cannot be made with cheese, we are here to prove you wrong. Paneer, when grated, gives you the same creaminess and cheesiness that you'd want in your Italian meals. And its rich protein content is an added bonus. Find the recipe for paneer pasta here.
Lemon Chicken Pasta
If you want a protein-rich meal, chicken pasta is the perfect recipe to make. But if you want to go beyond the usual chicken pasta recipe that you've had a zillion times already, try this unique and refreshing lemon chicken pasta. Click here for the complete recipe of Lemon Chicken Pasta.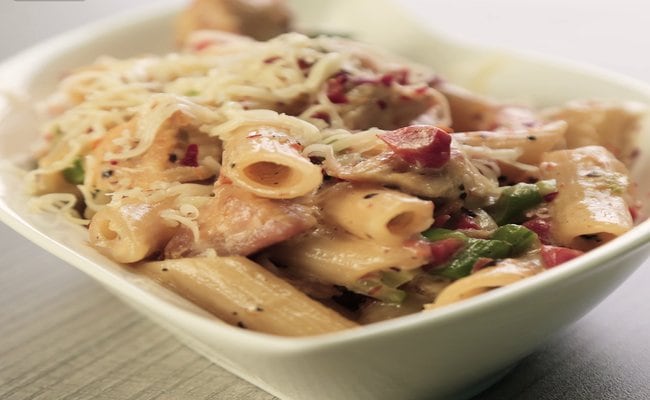 Pasta Primavera
Pasta Primavera is basically a melting pot of bright spring vegetables that add loads of flavours, colour and texture to the dish. Carrots, peas, broccoli, beans, mushrooms - you can choose from a host of nutrient-rich veggies to bring vibrance to this pasta dish. Find the complete recipe for Pasta Primavera here.
Egg Pasta
Let's take our love for the eggs to another level. Here we bring you a pasta recipe that contains scrambled eggs. This desi creation uses the masaledaar flavour garam masala to create a hot and spicy egg pasta recipe. Click here for the recipe of egg pasta.
Whole Wheat Pasta In Mushroom Sauce
A creamy pasta recipe without the unhealthy calories of cream and refined flour is just what the we want. This whole wheat penne pasta recipe uses the natural creaminess of mushrooms to give you a dish that is both satisfying and delicious. Ps: You can also add any of your favourite nutrient-rich veggies in it. Find the recipe for whole wheat mushroom pasta here.


Try these recipes and let us know how you and your friend liked them! Bon Appetit!