Sarika Rana | Updated: July 14, 2017 18:23 IST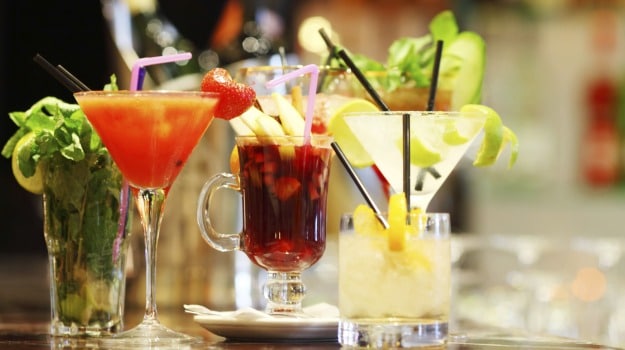 However, there is another anecdote that is believed to be a reason behind the creation of the LIIT. Dhanashree tells us that a slightly different drink was claimed to have been invented in the year 1920 by an Old Man Bishop in a local community called Long Island at Kingsport in Tennessee. The drink was then improvised by Ransom Bishop who was the Old Man Bishop's son. It included maple syrup and whiskey, and five types of liquors. Although there are numerous versions of LIIT, it essentially consists of an equal quantity of vodka, tequila, white rum, gin and orange liqueur, lime juice topped with an aerated beverage, energy drink or cranberry juice.

Is LIIT stronger than other cocktails?

Dhanashree points out that people think LIIT is more potent as compared to a Cosmopolitan, Martini or a Mojito because it has several liquors of different quantities mixed in it. However, it consists of the same measure of alcohol that every other cocktail has. Every cocktail or a large drink has 60 milliliters of alcohol in it. Similarly, an LIIT has four equal measures of white spirits which makes a total of 60 milliliter along with one orange liqueur.





Here are two amazing recipes of LIIT that you would want to try for your next party.





Blood on the Roof Top





Recipe by Dhanashree Kirdat Punekar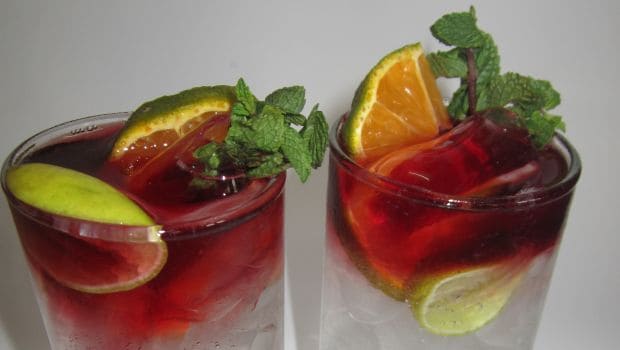 Photo Credit: Dhanashree Kirdat Punekar
Glass: Tall / Hurricane
Ingredients:
15 ml Vodka
15 ml White rum
15 ml Tequila
15 ml Gin
10 ml Peach syrup
10 ml Lime juice
15 ml Red wine to float
Splash of aerated drink
Garnish: Sweet lime & mint sprig
Method:
Fill the shaker with ice
Add Vodka, Rum, Tequila, Gin, peach syrup
Pour in some lime juice and shake it well
Strain it on ice in a tall glass
Add a splash of aerated drink and float red wine
Garnish
Long Island Iced Tea (LIIT)
Recipe by Mixologist Shatbhi Basu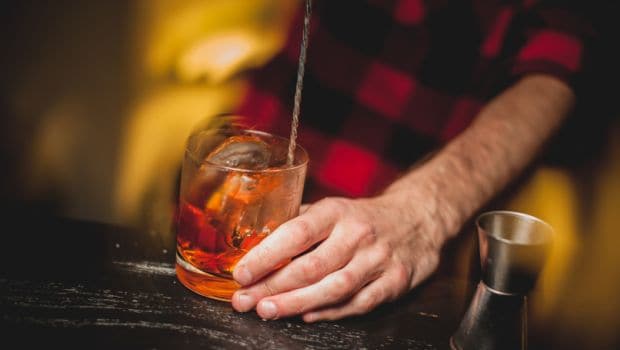 Photo Credit: Istock
Ingredients:
15 ml vodka (preferably orange flavoured)
15 ml rum
15 ml gin
15 ml Tequila/Desmondji 51% (agave spirit)
15 ml Cointreau/Desmondji (orange liqueur)
10 ml lime juice
Top with coke
Garnish: orange slice with sprig of mint and orange
Method:
Take tall glasses filled with ice.
Add all ingredients except DJ 51 & orange liqueur.
Top with coke & float the DJ 51 & orange liqueur on top.
Give a gentle swirl & garnish.
Cocktails are a fancy mix of various spirits - a concept that became popular sometime during the 1700s. One of the most popular cocktails amongst the lot is the Long Island Iced Tea (LIIT). This stylish drink has been quite a mystery, especially when it comes to the mix of liquors used and it is known to have evolved with time. The origin of Long Island Iced Tea has various stories surrounding it. According to Mixologist Dhanashree Kirdat Punekar, "The story dates back to 1972, when Robert 'Rosebud' Butt who worked at the infamous Oak Beach Inn on Long Island in New York invented the Long Island Iced Tea as an entry in a cocktail creating contest in order to create a new drink mixed with Triple Sec (liqueur used to add sweetness). It is believed that this concoction was an immediate hit and soon it became the house drink at the Oak Beach Inn."