Japanese Food Season Kicks-Off in India with Sushi class
IANS | Updated: October 21, 2013 11:53 IST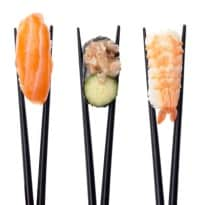 Have a strong liking for oriental flavours? Enjoy Oishii Japan or Japanese Food Season, with events like cooking workshops, restaurant promotions, food retail promotions, recipe contests and food festivals organised here and in Mumbai till February 2014.

The event, organised by Japan's agriculture, forestry and fisheries ministry in cooperation with the foreign affairs ministry, aims to promote Japanese cuisine in India.

"After monsoon, it's the festive season so we chose these months for the project. These two metros have maximum number of Japanese restaurants in India currently, plus this is where development of Japanese food is likely going to be more and more," Hakuei Kosato, managing director of La Ditta Limited, told IANS.

The event was inaugurated on Thursday at the Japanese Embassy, with students of Institute of Hotel Management, Pusa experiencing the art of making sushi during workshop by Chef Asano from Tokyo Sushi Academy.

A sushi class will also be conducted in Mumbai's Institute of Hotel Management.

Food aficionados can also enjoy the festival with selected Japanese restaurants in the capital and Mumbai offering a Japanese course menu at special price for three weeks starting Saturday.

"We are trying to popularise the cuisine. We think it should be for a wider audience and not just limited to the high-end class. So, restaurants participating in this project serve affordable and good Japanese food. Some of them are Asia 7 and Guppy by Ai. The price range is less than five star hotels," said Kosato.
The first month of 2014 will be exciting for Mumbai residents with a Japanese street food festival between Jan 17 and Jan 19, where delicacies like sushi, curry rice and yakitori will be served in a fast food way.

"If we promote campaigns of this kind and have more visitors to Japan, I am sure the number of Indian people familiar with Japanese food will increase and the cuisine is healthy," said Japanese Ambassador to India Takeshi Yagi.

A Japanese recipe contest, which is also part of the project, is open to all those who like to experiment with the ingredients. The one who comes up with most innovative recipe will get a chance to visit Japan.

While Japan is still trying to make their cuisine popular in India, Yagi says that presence of Indian restaurants in his home country is much bigger.

"The number of Indians living in Japan is big. There are approximately 50,000 Indians there. If we add people from the surrounding countries like Pakistan, Nepal and Bangladesh, the number further increases. That's why there are lots of Indian restaurants there.

"In India, we just have around 7,000 Japanese so restaurants that specialize in our cuisine are also less," said Yagi.

They are making efforts to popularise their cuisine in India, but Yagi is also looking forward to Japanese dishes with Indian twists.

"There is one type of sushi called California roll. It was invented in the US. So, why not Indian roll of sushi? There can be Indian inventions too," he said.