"Irrashaimase"! (Welcome). To love Japanese food is to love subtlety and umami, and then wash it all down with sake.
"The first rule of cooking one learns in
Japan
is
"Sozai o Mamoru"
which means to protect an ingredient; or to showcase an ingredient's flavor without masking it", says Chef Niki Nakayama of n/naka in Los Angeles, California. When you pop a
sushi roll
in your mouth, it is the fresh and honest flavours that woo you. And
Japanese cuisine
is just that - a celebration of flavours and seasonal ingredients in their pure state, and food is presented as an art."A basic Japanese meal, which even I have grown up eating, consists of
rice
known as
'gohan'
, miso soup, pickled
vegetables
and
fish
or meat", says Chef Takanori Fukuda, from Megu, The Leela Palace, New Delhi. Have you ever eaten a cloud before? Because that's what their rice tastes like, incredibly light on the palate and the stomach. He adds, "As an island nation, the
Japanese
take great pride in their seafood. A wide variety of fish, squid, octopus, eel, and shellfish appear in all kinds of dishes from sushi to tempura".Japanese food is usually healthy, fresh and well portioned. Take the bento box for example, one of their most simple dish concepts. It is a single portion meal prepared with rice, meat or fish, and vegetables, designed to include a variety of food sources addressing multiple nutritional needs. It offers a contrast of textures and flavours, and speaks volumes about the careful balance that is applied in Japanese cuisine. The first time I tried the bento box, I marvelled at the myriad textures and
flavours
released with each bite, then at its rapid disappearance.
Did you know that there are two type of words in Japanese for 'Japanese food'? The first is
'washoku'
which refers to the
traditional
style of Japanese food like sushi or tempura and then there is
'kaiseki ryori'
(Japanese
haute
cuisine).
Kaiseki
is a traditional multi-course Japanese meal which features a set menu of select food served on a exquisite crockery. "The reason I wanted to learn
kaiseki
cuisine is because there are so many ideas and meanings behind every dish that's served. The greatest thing that I've learned in
kaiseki
cuisine is the core teaching of gratitude, the appreciation for ingredients that nature has to offer", says Chef Niki Nakayama. Only fresh ingredients are used in
Kaiseki
cuisine and each dish is designed to celebrate the current
season
.Chef Niki Nakayama adds, "With everything in life, there is great tradition that you have to carry forward, and then there is tradition that we should change with the times." Over the years, another type of Japanese food known as
'nihon ryori'
has emerged due to outside
cultural
influences. It includes 'borrowed food' including curries and ramen which cater to the tastes of Japanese people.
Top 10 Japanese Dishes
Sushi and sashimi are only the tip of the iceberg. According to Takanori Fukuda, Chef De Cuisine, here are the Top 10
Japanese dishes
that even Indians would enjoy.
1. Yakitori Chicken:
Flavoured with either a sweet soy-based sauce known as 'tare' or a salty 'shio' sauce, Yakitori is basically a charcoal grilled
chicken
. Skewered and nothing short of spectacular.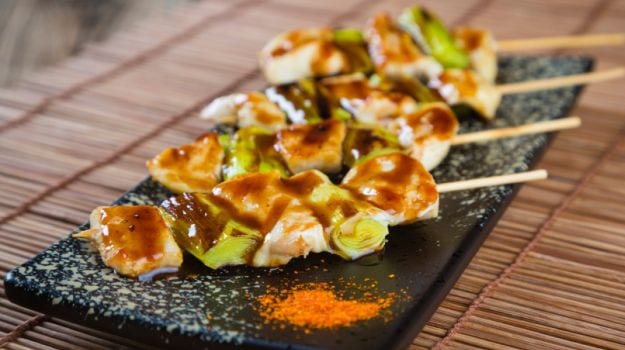 2. Shabu Shabu:
The concept of
Shabu Shabu
restaurants is just brilliant. Platters of meat and
vegetables
are brought to the table, and diners cook their meal themselves. For this dish, diners swish paper-thin slices of pork in a pot of bubbling broth for a few seconds and then dip the cooked pork in sesame sauce before
eating
. Later, vegetables such as
mushrooms
,
Chinese
cabbage and tofu are added to the pot of boiling water and then dipped in a citrus-y soy-based sauce known as
'ponzu
'. Udon noodles are then added, and diners even have the option to use crushed
garlic
and
chives
for added flavour.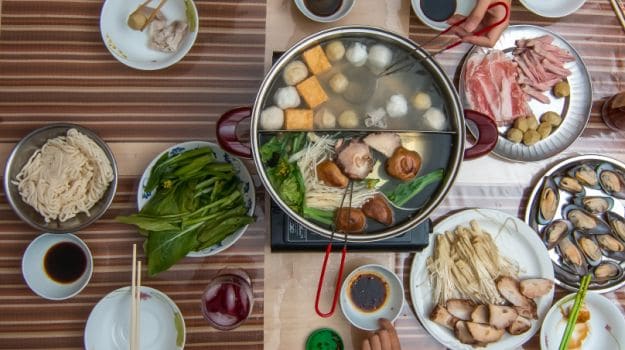 3. Okonomiyaki:
Like a savoury pancake,
Okonomiyaki
is made with chopped vegetables, meat or seafood and flipped over on a griddle. It is then spruced up with
mayonnaise
, Worcester-style sauce and sprinkled with
nori
and fried fish flakes. Some even top it off with a fried egg. This is Japanese comfort food at its best.
4. Tonkatsu:
Breaded, deep fried and melt-in-your-mouth tender,
'Tonkatsu'
is a
pork
cutlet that dates back to the late 19th century. It is typically served with
miso soup
and a mountain of shredded cabbage on the side.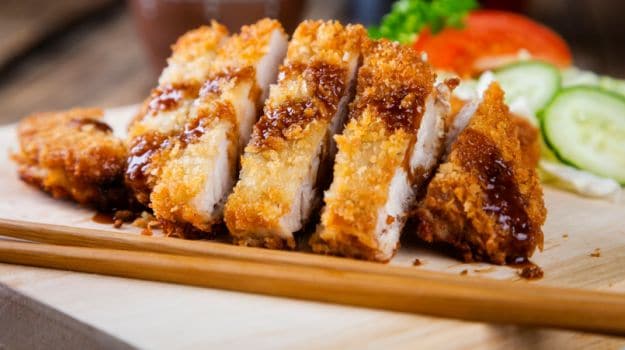 5. Soy Ramen:
Japanese, Korean or Chinese,
ramen
is one dish that the Japanese have made completely and deliciously their own. It's their favourite late-night meal featuring
egg
noodles cooked in a salty broth. It can either be topped off with
tonkatsu
, miso, soy sauce or
salt
.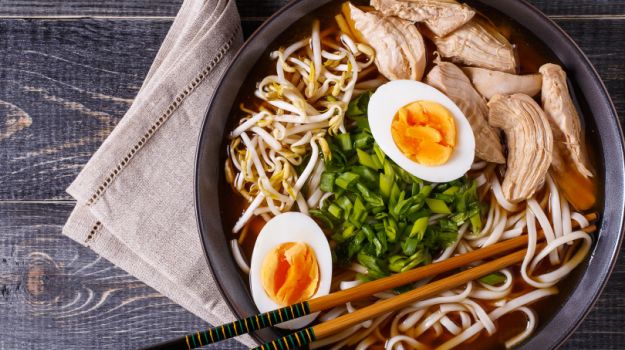 6. Tempura:
Light and
crispy tempura
, devoid of any grease, is Japan's contribution to the world of
deep-fried foods
. Vegetables or seafood are traditionally batter-fried in
sesame oil
and served with a bowl of rice or noodles and
soup
. It also served with a dipping sauce such as soy-sauce flavoured broth, and spiked with
'daikon'
(grated
radish
).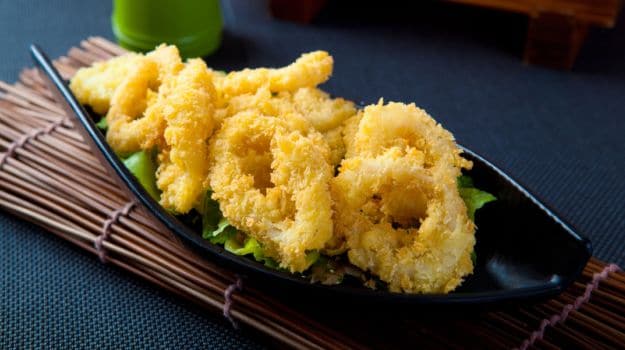 7. Hot Pot Fresh Udon And Soba Noodles:
While soba
noodles
are long and thin buckwheat noodles, udon noodles are chewy, soft and thick wheat noodles.
Soba noodles
are served in either a hot, soy sauce-flavoured broth or at room temperature on a bamboo mat with broth on the side.
Udon noodles
are neutral in flavour and make for a good choice in rich
curries
.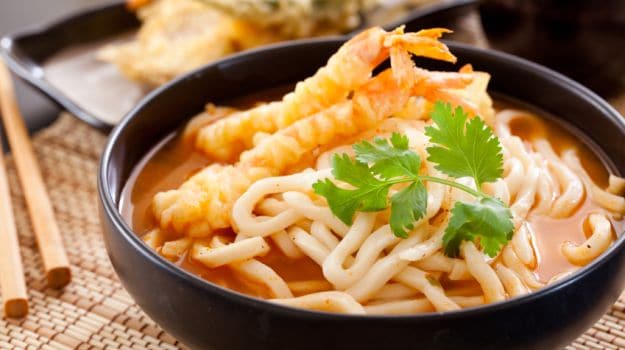 8. Miso Cod:
A signature at Nobu
restaurants
, Black Cod fish is marinated in a good amount of
sake-miso
for 2-3 days and then baked. We've got one word for you: sublime.
(Enough said).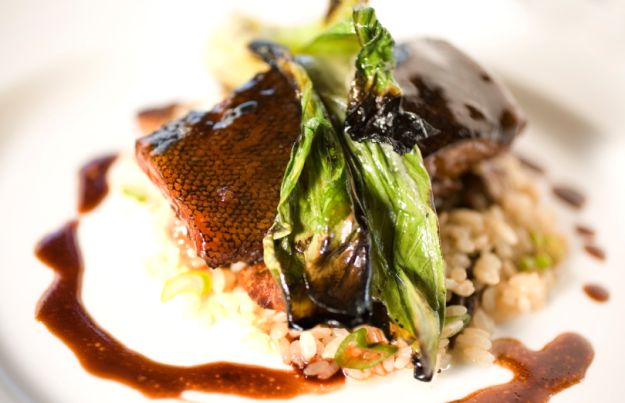 9. Sushi:
Sushi
is basically raw fish (or shrimp or squid) served over pressed
vinegar-ed rice
. In the American documentary
Jiro Dreams of Sushi
, Ono Jiro says, "The most important part of making good sushi is this: Creating a union between the rice and the
fish
. If they are not in complete harmony, the sushi won't taste good".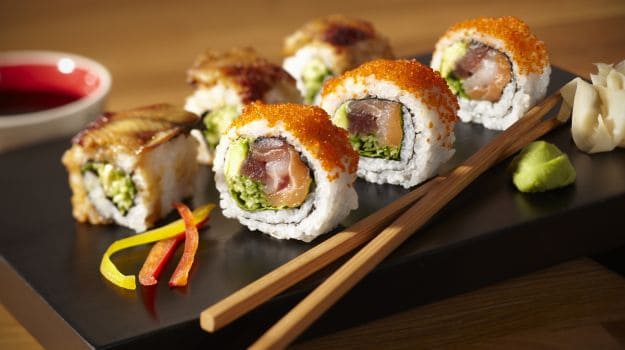 10. Sashimi:
Contrary to popular belief, sashimi is not sushi. Sashimi consists of thin slices of raw, fresh fish or even meat served with
wasabi
and soy sauce (known as
'shoyu'
in Japanese').
If you're trying Japanese food for the first time, Iimura San from En - The Japanese Restaurant, Delhi, suggests: "Never leave your chopsticks crossed on top of your bowl, or spear your food with a chopstick, or raise your food above your mouth while eating". And get ready to be wowed. It's the honest flavours that shine through in every Japanese dish - no frills, just culinary magic.