This year will be the 71st anniversary of La Tomatina, the world's biggest food fight. Last year, Google had dedicated a doodle to celebrate this occasion. Spain's answer to India's holi, the festival is draws crowds from all over the world.
According to La Tomatina's official website, here are the rules of the game:
1. Do not bring bottles or hard objects as they can cause accidents and hurt other participants.
2. Do not rip other people's T-shirts.
3. You must squash the tomatoes before throwing them as this reduces the impact.
4. Ensure you keep a safe distance from the lorries.
5. As soon as you hear the second shot, you must stop throwing tomatoes.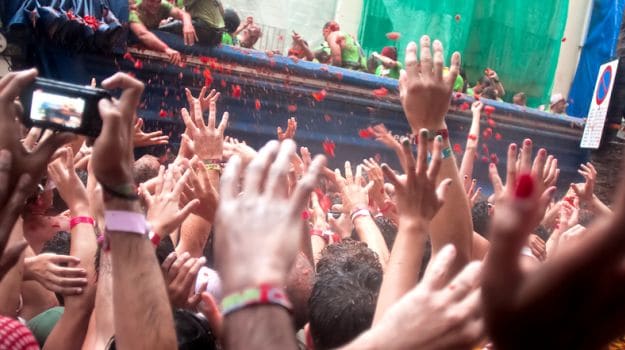 In case you're wondering what Spain's, and the world's, largest food festival is all about, we give you 10 facts about La Tomatina you did not know.1. It takes place every year on the last Wednesday of August between 10 AM and 11 AM.2. It starts out with the ham on a pole ritual where a challenger, with a lot of upper body strength obviously, climbs up the greased pole to secure the piece of ham.
3. Wondering how many tomatoes are used? This year, the town plans for a record 150 tonnes of tomatoes from a place called Extramedura.4. La Tomatina 2015 will also be launching its first ever Tomatina Race, a tomato-based obstacle course.5. As a matter of fact, this tomato-throwing tradition takes place in Bunol, a Spanish town that doesn't even grow tomatoes. But wait, you already know this because you've seen the popular Bollywood movie
Zindagi Na Milegi Doobara
.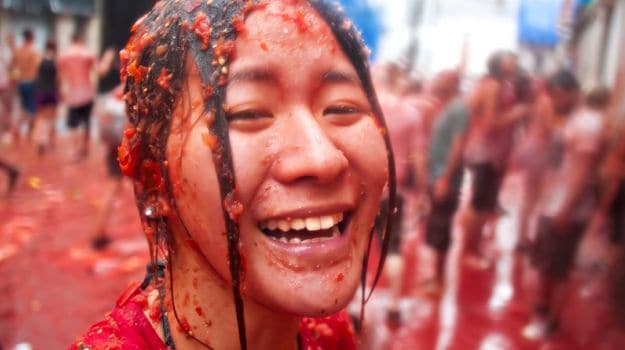 6. It is believed that La Tomatina started way back in 1945 when a man was pushed off a float during an annual carnival parade. In a fit of rage, the man picked up tomatoes from a vegetable shop and started to throw them at every person in sight. Some of the people repeated this act and after that it became an annual event. The authorities did try to dissolve it a few times but it finally became an official festival in 1957.7. The festival was initially free for participants from 1945 to 2012, but in 2013 the Mayor of Bunol imposed a 10 euro entry fee for non-residents. And despite that, 17,000 tickets were sold just to foreigners this year.8. It honours the town's two patron saints, Luis Bertran and Mare de Deu dels Desemparats (Mother of God of the Defenseless), a title of the Virgin Mary.9. Once the fight ends, fire-fighters wash down the streets and people with hoses. And surprisingly enough, the village looks quite clean after, all thanks to the tomato's acidity which acts as a disinfectant.10. 40,000 tomato enthusiasts actually show up every year for this state sanctioned food fight.(Top 10 Restaurants in Barcelona for Great Value Set Lunches)